Welcome to Mice's Hole in the Wall!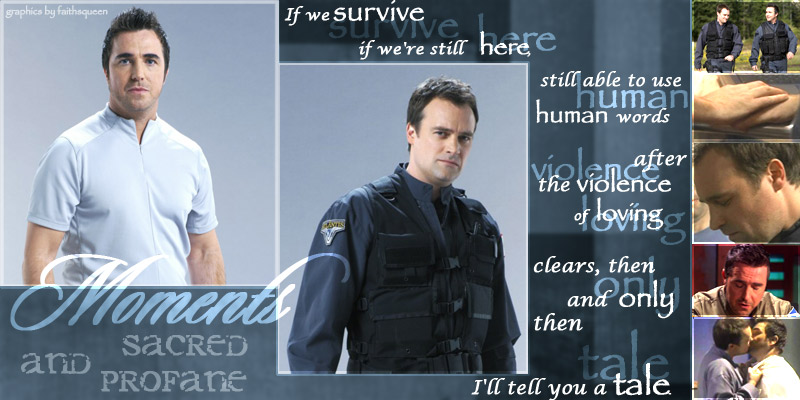 Site updated March 30, 2009:
New SGA Story: The List






Thanks to FaithsQueen for the luscious MSP banner at the top of the website. You rock, my dear!


Stupidity R Us: Mice has taken the Fanfic 100 challenge for Stargate Atlantis, with Rodney and Carson as characters. This challenge is to write 100 stories about the chosen characters in response to a series of prompts. People from all kinds of fandoms are signing up for the challenge. To see what else is out there, check out the Big Damned Table!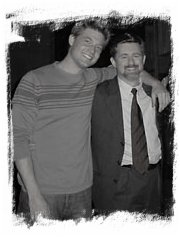 Hi, I'm Mice. Welcome to my Hole in the Wall. It's not much to speak of, but I've got a hell of a lot of cheese -- Fic! I mean Fic! -- here. Lots of slashy goodness, so if you're under 18 or don't like boys with boys, you should turn tail and leave right now. If you're offended and you bitch at me, it's your problem, not mine.
About Mice:
Mice is a Sexy Senior Citizen who happens to like guys. Especially young, sexy guys with young, sexy guys. He watches smutty videos that aren't his, writes smutty stories, and attempts to get dates with young, sexy guys. He hasn't had much success with the getting dates thing, which is why he writes smutty stories and watches smutty videos that aren't his. A retired iconoclast and rabble rouser, he lives in the Washington, DC area.
Mice was abandoned as an infant at an ice station in Antarctica and raised by a flock of noble Emperor Penguins. These gentle, flightless giants of the ice treated him as their own son, teaching him the ways of the deep, wild sea. When he was finally rescued by a team of Russian geologists, he was held for study, then helped to escape by friendly American scientists, who also wanted to hold him for study. When Mice learned to talk, he expressed a distinct preference for herring, and a deep-seated fear of walruses. To this day, their shining ivory tusks make him shudder from his bones. Mice can be picked out of a crowd on a normal day by his insistence on wearing a tuxedo at all times.
Mice was raised in a Buddhist monastery in northern India, where he developed a fondness for bald men and chanting in Sanskrit. This goes a long way to explain his fetish for A.D. Walter Skinner, Captain Jean-Luc Picard, and villainous magnate Lex Luthor, but does nothing to hint at the reasons he mutters to himself in Hopi when nervous. He claims to have once seen the ghost of Walt Whitman. Others insist Mice was mistaken, and it was actually the ghost of Charles Darwin.
Mice is actually Hillary Rodham Clinton in a very convincing disguise.
Mice is actually Sir Edmund Hillary in a very convincing disguise.
Some of this might be true on alternate Thursdays. Maybe. Except the walruses. That's all true.


---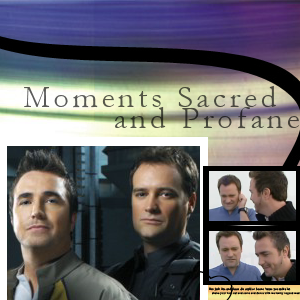 Moments Sacred and Profane


---

The entire Moments Sacred and Profane series won the 2007 DiversiFICation Award for Best Beckett/McKay Drama! A huge thanks to my readers who nominated the story!





Pre-series and Season One



Cover Art MSP Prelude 1: In the Beginning - How did Rodney and Carson first meet? And why is Carson so afraid of Ancient technology? A prelude to the Moments Sacred and Profane series. 9/14/05
MSP Prelude 2: Movements in Real Time - Sometimes sex and friendship aren't enough. Osbourne and Grodin meet Zelenka and alliances shift. A prelude to the Moments Sacred and Profane series. 7/15/05
MSP Prelude 3: Adrift - After the Rising, there's a new life to embrace. 9/14/05

Cover Art MSP1: A Language I Understand - Carson's homesick. Rodney's being more of a wanker than usual. Sound collision alarms! 10/18/04
Cover Art MSP2: Playing the Odds - Some rough waters for Carson and Rodney. 10/18/04
Cover Art MSP3: League Play - Somebody's got a soccer ball. Boredom is alleviated -- for a while. 10/28/04
Cover Art MSP4: The Space Between Breaths - Wildfire separates Rodney and Carson from the Gate team. When a medical emergency strikes, the situation could be fatal. 10/31/04
MSP5: First Elegy - Carson and Rodney are having a rough recovery. 11/4/04
Cover Art MSP6:The Thursday Night Crew - Carson takes Rodney to meet some of his friends. 11/8/04
MSP7: The Fine Art of Being Human - Secrets are revealed. Revelations can be dangerous. 11/18/04
Cover Art MSP8: The Beauty You Love - A tale of Rodney McKay, an Ancient device, and Art. 11/26/04
Cover Art MSP9: A Remote Important Region - Rodney finally talks about his past. So does Carson. 12/15/04
Cover Art MSP10: The Orpheus Box - After the storm, Rodney and Carson have some issues. An Ancient device complicates matters for some of our favorite Atlantis residents. 1/13/05
Cover Art MSP11: Lament for a Perfect Illusion - Rodney deals with the death of a friend. Peter Grodin has a not-so-secret admirer. 2/5/05
MSP Interlude 1: Triad - Peter Grodin gets a second chance. 9/26/05
Cover Art MSP12: Meditations on the Abyss - Rodney and Carson deal with death and evil nanovirii. Much angst is had. 2/16/05
MSP Interlude 2: A Strange and Ancient Voice - Rodney and the Major are in trouble offworld and it's Wile E. McKay to the rescue. 9/23/05
Cover Art MSP13: To Dance at the Edge - Carson continues to unravel as he's pushed to his limits. 2/21/05
Cover Art MSP14: In Your Eyes Reflected - On an offworld mission, Rodney and Carson are captured. Very Bad Things happen. 2/28/05
Cover Art MSP15: Last Words - With the Wraith advancing on Atlantis and no hope in sight, Carson and Rodney wonder how to say goodbye to the ones they left behind. 3/17/05
Cover Art MSP16: Revelations - With the Wraith coming closer, exhaustion begins taking its toll on the Atlanteans. 4/19/05
Cover Art MSP17: Requiem - The Wraith are at the gates. A tale of love and loss. 5/13/05
Cover Art MSP18: Severance - Help from Earth has arrived, but is it too little, too late? 6/8/05



Season Two



MSP19: In the Still of the Night - The siege has taken a terrible toll on the Atlanteans but once it's over, there are other issues to resolve. 11/6/05
MSP20: Covenants of Flesh -Rodney and Carson visit some old, familiar places. Naturally, difficulties ensue. 11/12/05
MSP Interlude 3: Back at the Ranch -While the command staff is on Earth, somebody has to be minding the fort. Radek and Geoff have some issues to resolve. 11/25/05
MSP21: Journey of the Stars - Rodney and Carson visit Scotland. Things get better. 12/4/05
MSP22: Alembic - Back in Atlantis, Rodney and Carson have unresolved issues to face. 1/13/06
MSP23: Lions - Strange shit happens, and it's a race against time to save Rodney's brain. No, really. 4/1/06
MSP24: Third Law - For every action, there is an equal and opposite reaction. Rodney thought he'd graduated to post-Newtonian physics. 5/27/06



The Carson and Rodney Video Corner


Vid by Tree to Bad Case of Loving You. This is a .wmv file, and it's a fun Beckett/McKay romp to the Robert Plant classic. Please right-click or option-click (for macs) to download the vid! Thanks to ElvenWolf for hosting this vid.
Vid by ElvenWolf to Thousand Mile Wish by Finger Eleven. Another .wmv file. Please right-click or option-click (for macs) to download the vid! This vid, ElvenWolf says, was inspired by my story The Orpheus Box. A huge thanks and shout out to Elvenwolf for this wonderful gift!
A vid by Derry, all about Beckett, to Big Country's In a Big Country -- a lot of fun and some really good Carson footage. Please right-click or option-click (for macs) to download the vid!
Vid in .wmv format by Elvenwolf to Cold by Crossfade. This acoustic version fits the feel of the earlier stories of the Moments Sacred and Profane series. Please right-click or option-click (for macs) to download the vid!
Vid in .wmv format by Heuradys to I Feel Like Going Home by the Battlefield Band. And check out her other great vids too! This one features Rodney, Carson, Radek, Peter and Geoff from Moments Sacred and Profane. You want it. You know it. View it and send her LURVE.

Ethnomusicology Made Easy (Even for You, McKay) is a music mix I put together. It's a concept CD, put together by Dr. Siwicki for Rodney. Glorious full color cover by Heuradys! 12/13/05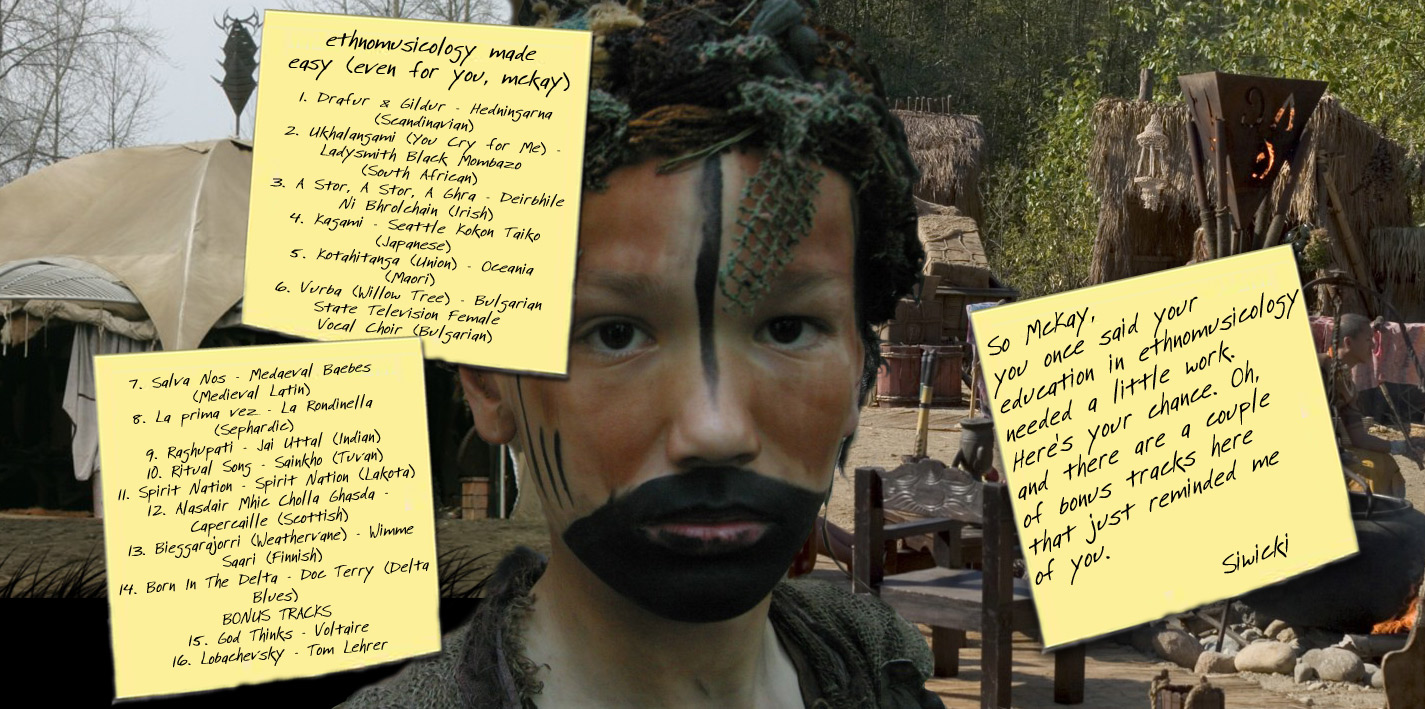 Right-click or option-click (for macs) on the cover to download this Moments Sacred and Profane music mix. It's a zipfile, about 85 meg. And yes, I know that Wimme Saari is a Saami Joiker, not Finnish. Sorry about that.


Carson's Ceilidh is the second music mix I put together. This one is a companion to MSP21: Journey of the Stars. Glorious full color cover by Heuradys! 12/15/05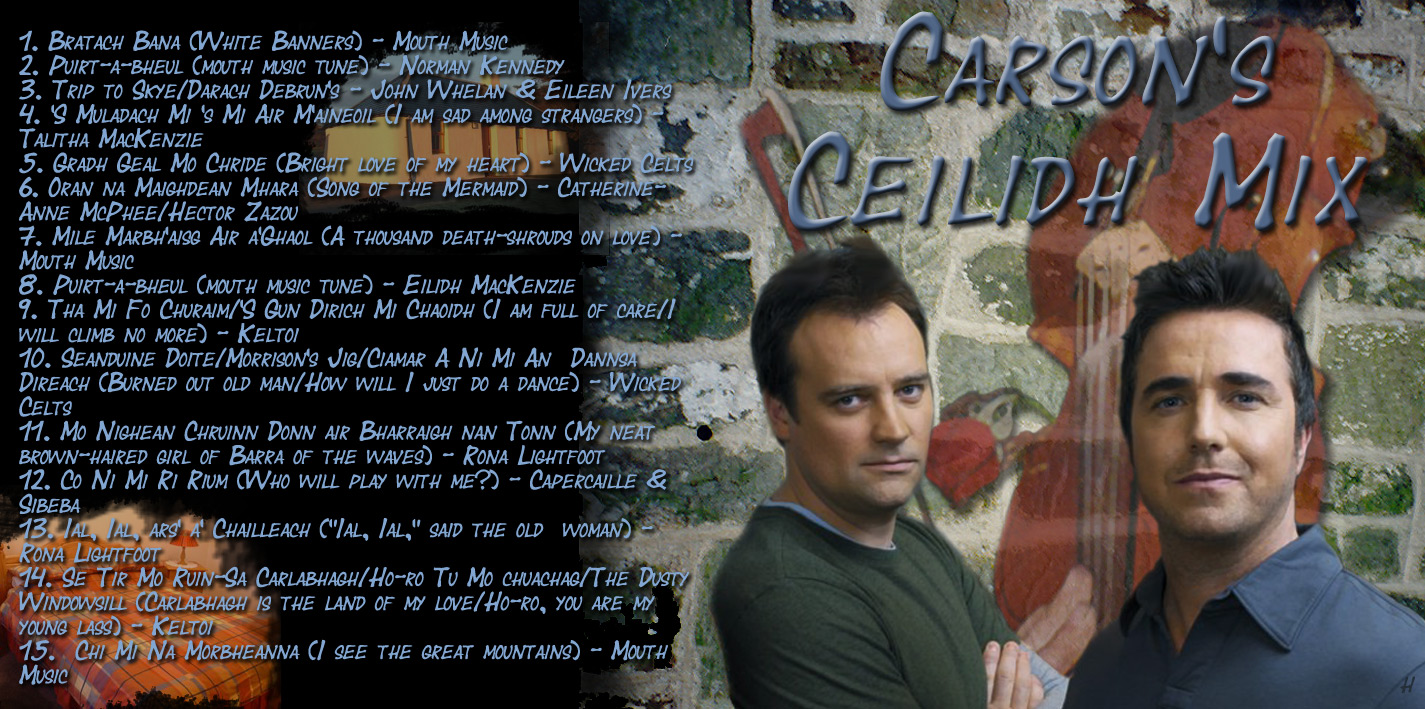 Right-click or option-click (for macs) on the cover to download this Moments Sacred and Profane music mix. It's a zipfile, about 82 meg.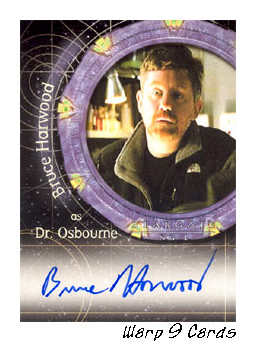 This is an image of Dr. Osbourne from one of the SG1 trading cards.
Really lousy photo, IMO, but hey, we Fanrodents take what we can get.
MSP Graphics Corner

<!image by JadeLeopard>



The little MSP banner above was made by Jade Leopard for me. Lovely, isn't it?
ElvenWolf made a wonderful MSP wallpaper that also features Zelenka and Osbourne. Check it out and give her lots and lots of love and adoration in her LiveJournal.
Nepygill also made a lovely MSP wallpaper. This one is Carson and Rodney. Click here for a peek and drop by her LiveJournal to let her know how awesome it is.


---
The Moments Sacred and Profane series won the 2005 Stargate Fan Awards for Best Angst Relationship story, non McKay/Sheppard. MSP 3: League Play won the SGFA for Best Humor Relationship story non McKay/Sheppard. But the most fabulous thing of all is this:



Thank you, everyone who voted for me in 2005!

---
LGM Stand Alone Stories
Interlude With Candle - Byers decides to show Langly a little fun.
Fruits and Veggies - Byers and Langly go to the organic foods co-op
The Kryptonian Conundrum - a Smallville/X Files badfic
Hold Tight to the Rose - A devastated Jimmy Bond tries to cope with the events of Jump the Shark
A Night On The Town - drabble, not technically a part of the Well Kept series, but the inspiration for Armani Weekend
The Mark a Moment Makes - A secret is revealed, and Byers' fate is in Krycek's hands 5/17/04
Hesitation - A Krycek/Byers drabble 5/17/04
Stargazing - Melvin and Max, watching the stars, waiting for UFO's 10/18/04

The Sentinel Stand Alone Stories
APA - vignette - Blair finds something in Jim's closet 5/17/04
A Game of Cat and Rat - crossover - Jim's looking for answers. Does Krycek have them? 10/31/04



Stargate: Atlantis Stand Alone Stories
Mice's standalone stories are now available in zine form from Agent With Style -- click on her Stargate: Atlantis link and scroll down to find the zines!
Contents are as follows
The Urge to Run in a Small Wheel 1
Theory of Relativity
Theory of Unification
Theory of Gravitation
A Little Gift
A River in Egypt

The Urge to Run in a Small Wheel 2
Falling Water
Long, Strange Trip (slash version)
Naming the Stars
Red Lion Rampant
Chicken Soup for the Annoying Soul
Tumbledown
First Kiss

The Urge to Run in a Small Wheel 3
Submerged
My Brother's Keeper
The Third Man
Thicker Than Water

The Urge to Run in a Small Wheel 4
50 Ways to Leave Your Doctor
The Burning of Your Sorrow
From Far-Off Shores
Like This
Midnight Blue
Pods
SW2 Naming the Stars - Sheppard and McKay on yet another alien planet. This was a bribe for Ladyhawk. 12/7/04
Tourney - Rated S for Silly. Everyone's acting strangely on Atlantis. Can Halling save the day? A present for Tree. 12/29/04
SW1 A Little Gift - It's Carson's birthday. Rodney conspires to bring him a present he won't forget. 1/23/05



>SW2 Long, Strange Trip - Carson and Rodney go offworld. How much trouble can two doctors get into? Gen version written for TJ. 5/18/05 Gen version. Slash version WINNER: BEST HURT/COMFORT FIC, OTHER
SW2 Falling Water Carson. Rodney. Shower. Nuff said. 5/22/05



SW2 Red Lion Rampant On a planet ruled by healers, Carson learns some unintended lessons about courage and love. Written for Rose for the Carson Beckett Ficathon on LiveJournal 6/01/05 Winner SGA DiversiFICation awards 2007 Best Beckett/McKay Hurt/Comfort
SW1 Theory of Relativity Zelenka tests a little theory. 6/11/05
SW1 Theory of Unification Rodney and Radek go off to investigate an Ancient outpost on an island near the mainland. Things do not go as planned. Sequel to Theory of Relativity 7/14/05
SW1 Theory of Gravitation - Carson gets pushed into a corner. How far will he go to save his lovers? Sequel to Theory of Unification. 05/12/07
SW2 Tumbledown An accident threatens Zelenka's life. Rodney and Carson try to make it better. 7/14/05
SW2 Chicken Soup for the Annoying Soul Soup. Phlegm. Grumpy Rodney. 'Nuff said. 7/23/05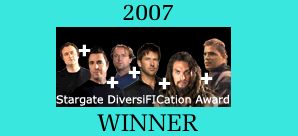 SW3 My Brother's Keeper Ronon decides Rodney and Carson both need a keeper. 10/28/05 Winner SGA DiversiFICation 2007 Best Rare Slash Threesome
c. arabica by Mice and James. post-ep for Poisoning the Well. Carson needs help dealing with what happened on Hoff, and with other things. 11/21/05



SW3 Submerged For James. Carson and Rodney get stuck in a very cold place. They attempt to warm up. Set before Hide & Seek. 12/16/05 Winner: SGA DiversiFICation award Best Beckett/McKay Humor
Equal Opportunity A drabble for the Fanfic 100 Christmas prompt. Rodney is an equal opportunity holiday hater. 12/20/05



SW1 A River in Egypt Rodney thinks he's dating Carson. Carson thinks he's straight. They're both wrong. 1/04/06 WINNER: BEST SLASH HUMOR, OTHER
SW2 First Kiss Five universes. Five kisses. 2/05/06
SW3 Thicker Than Water An offworld mission goes terribly wrong. 2/08/06
SW3 The Third Man Carson and Rodney find a playmate. 3/16/06
A Friend in Need Peter Grodin sees what Hoff has done to Carson Beckett. 5/09/06
SW4 Fifty Ways to Leave Your Doctor For Zort. Rodney and Carson and... divorce? 6/03/06
SW4 Midnight Blue What did Carson really intend to say? Missing scene slight AU for The Return part 1. 9/27/06
SW4 Pods The aliens did it. 11/01/06
From Far Off Shores Lovers, on distant shores. 1/21/07
SW4 The Burning of Your Sorrow Two months after That Sunday, Rodney confronts his truth. 1/15/08
SW4 Like This Kindred missing scenes and resolutions. 3/13/08
At First Sight It didn't seem right... Written for the McBeck Challenge community. 7/3/08
The Voice of the Sky Rodney is desolate after the events of Trinity. Carson tries to help. Written for the McBeck Challenge community. 12/03/08
New! The List Rodney has a little list. Written for AFG1 for her participation in the Mice Remix Challenge. 3/30/09


My Stargate: Atlantis fic can also be found at the Wraithbait archive!


---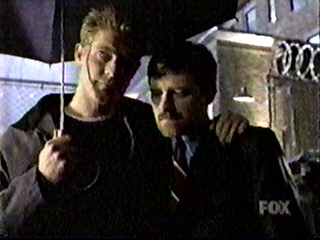 The Maximum Byers Series
---
~Bruce Harwood on Jimmy/Byers:
"Well, that's just obvious, isn't it?"~

MB1: Texas Death House Blues - Byers and Jimmy deal with life on death row. Missing scenes and post-ep for Maximum Byers.
MB2: Long Journey Home - Morning thoughts and late night driving.
MB3: Razor's Edge - Jimmy tries to help as Byers deals with his fears and paranoia.
MB4: What You Are in the Dark - Byers can be brave for others when the chips are down, but can he do it for himself?
MB5: The Hazards of Being Human - Every night has a morning after. Byers has to deal with his friends and his own head trips after his reality has changed.
MB6: What You Are in the Light - Is Jimmy the right guy for John? Not according to Frohike. What happened while Langly went looking for Byers?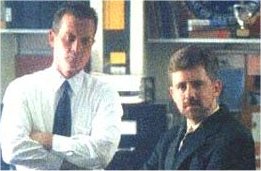 The Well-Kept Series


---



~Bruce Harwood on Doggett/Byers:
"Hmm... Doggett/Byers. I could get behind that."~



Midnight at the Oasis - A prequel to the Well Kept series: Langly runs into Skinner in a very surprising place.
WK1: A Well-Kept Man - Doggett proposes an... arrangement.
WK2: Armani Weekend - Doggett takes Byers to NYC to buy a suit and have a weekend on the town. Smut, angst, and complications ensue.
2003 Spookys Winner, FOUR PRIZES!




Chapter 1: Friday
1st place: Doggett/Other Slash, 2nd place, LGM Characterization
Chapter 2: Saturday
3rd place Doggett/Other Slash, Hon Mention, LGM Characterization
Chapter 3: Sunday
Chapter 4: Monday
WK3: Metal and Bone - After Doggett and Byers return from New York, our Agent brings an X File to the Gunmen. Things go terribly wrong.
Chapter 1 Chapter 2 Chapter 3 Chapter 4
WK4: Making Bail - Byers gets arrested. Who's going to bail him out?
WK5: Down in the Basement - Doggett shares a little secret with Byers. 7/6/05
WK6: Not Your Average Mikado - An unexpected visit turns into some unexpected fun.
WK7: Shed a Little Light - Doggett and Jimmy have a little conversation.
WK8: Broken - Byers ponders aspects of his life, and Doggett.






The Doors of Perception Series
A Lone Gunmen/The Sentinel Crossover
---

by Mice and Lady Jaguar

DoP1: In Light Revealed - When Byers, Langly and Doggett go to Cascade to investigate reports of a potential SuperSoldier, Doggett discovers some hidden talents of his own.

DoP2: The Doors of Their Assemblies - When Sentinels collide... well, let's just say that two Guideless Sentinels are not happy company. Byers and Blair -- in trouble again, for the first time.
Part One Part Two

The Doors of Perception series has been turned into a zine, with illos by KAM, available from Agent With Style. You can find it under the Sentinel fanfic section. Also from AWS are two new stories by Mice and Lady Jaguar, not available online as yet, in the zine Come to Your Senses 28. Together, we wrote "Uncommon Scents", where Jim and Blair cope with Jim acting like the one who wants to hump table legs, and Lady Jaguar has whipped up a little delight called 1-900-SANDBURG wherein Blair takes a job as a phone sex operator. Smut ensues. Oh yeah. Get yours today!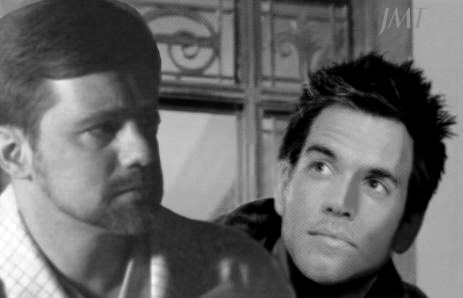 After the Fall
A Lone Gunmen/Dark Angel AU Crossover
---







ATF1: Manticore - Byers goes to Seattle looking for information on the Manticore Project, and ends up finding much more than he bargained for.
ATF2: Holding Together - a sequel to 'Manticore' originally published in At Day's End. Logan Cale heads east with a message.



---
Mice's Fic Writing Corner


Here you'll find some of my commentary on writing. So far, what I have here are responses to questions about writing on some of the fanfic lists I'm on. I'll add them as I write them.



On Writing Action Scenes
On Writing Angst, Hurt/Comfort, and BDSM






It's Just Us Mice!