STARGATE: ATLANTIS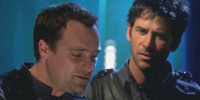 (McKay/Sheppard)
Atlantis: a linked drabble (PG, 40k pdf)
Drabbles from Quote Prompt (PG, 5k)
Crossed Wires (PG, 10k)
you will know it when you find it
The Storm / The Eye (poem, 2k)
Carnal Positions (NC-17, 15k)
What harm can it be to try?
sams: a story in ten-word segments (PG, 4k)

In a Galaxy (PG, 9k)
Long, long ago...
What the Heart Felt (PG, 12k)
Their joined gaze held each other's hearts.
Thorn Wall (remix) (PG, 4k)
He built himself a wall with the thorn of words.
Dragon Spin (R, 37k)
When Rodney woke up, he was a dragon.
Message to the Griffins (PG, 5k)
tag to Grace Under Pressure
Season 3 Episode Tags (PG/R, 15k)
The Truth About Katie (PG, 27k)
Hail Mary (R, 6k)