Harry Potter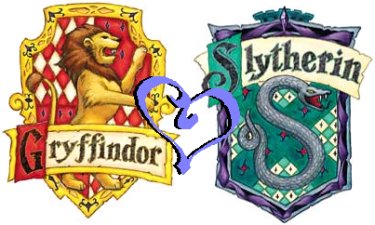 NEW or UPDATED
stories are highlighted in blue
Singles
These stories stand alone. Some one-shots, others are chaptered. Aranged Alphabetically.
With Sequels
Stories that have been continued. Aranged Alphabetically, in groups by story-line.
Singles

Knight - WIP -- parts: 1 2 3 4 5 More soon...
A GW and Harry Potter crossover. Zechs gets pulled into Harry's world. Together they unlock lost secrets, fulfill prophecies, and vanquish Voldimort and his Death Eaters.
11/1/2003 | 9/29/2003 - 22kb - pg-13 - Action/Adventure - Cross-over: HP x GW

Magic'd Books and Courting
Harry finds Draco's stash of trashy romance novels. He notices that in all the books, the two main character's names have been magically changed to "Harold Porter" and "Drake Mayfly". Writen for the hd_fqf.
5/3/2005 - 20kb - R - Humor, Romance - Harry/Draco

Tofrar Dreki Lecture
Another instalment from Discovery Channel ~ Fangirl~ all you need to know about the Draco Malfik
7/6/2003 - 3kb - pg - Humor/Parody

With Sequels
It Started With... - WIP -- co-written with Grayswandir
What start's Draco's slide into obsession? A simple Smile. What leads to Harry and Draco resolving their cat'n'mouse game? A little medling from a Potions Master.
5/2/2002 | 4/17/2011 - 78kb - pg-13 - R - Humor, Romance - HP/DM, HP/DM/SS - (cameos from the GW boys)

---
To Make You Feel My Love
A set of corresponding drabbles inspired by the song "To Make You Feel My Love" as sung by Garth Brooks.
4/6/2005 - 11kb - R - Drama, Romance - Harry/Severus

Lucius' Eternal Punishment
What Harry did to Lucius - Missing scene from 'Too Make You Feel My Love'
4/10/2005 - 10kb - R - Drama, Graphic Gore

---
Draco and His Mutinous Hair
Harry finds a drunk Draco. windles_orbit prompt #68 buzz cut
4/11/2007 - 8.4kb - pg-13 - Humor

Draco and His Bad Morning
Draco deals with the after effects of his drunken night.
5/26/2007 - 4kb - pg-13 - Humor

Draco and His Absolute Revenge - WIP
Draco finds inspiration in his box of treasures.
6/25/2008 - 3kb - pg-13 - Humor

---
The Grand Adventure is an arch of fics writen for the 6_cocktails challenge. I chose Course 5.
Summary: Harry takes a trip around the world. His simple vacation turns into a grand adventure.
Bajtra Fizz
Before the Grand Adventure starts... [prompt: Cactus Juice]
6/15/2008 - 3.5kb - pg - Humor

Tavli
Harry's trip has taken him to Greece... [prompt: bar bandit]
12/29/2008 - 5kb - pg - Humor

---
To receive email for new and updated fiction:

Click to join twin_swords