G-Boys!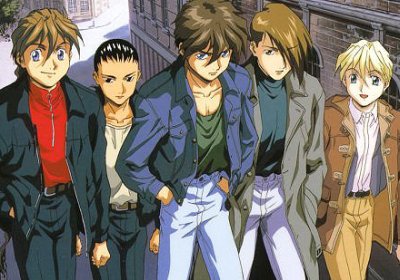 NEW or UPDATED
stories are highlighted in blue
Singles
These stories stand alone. Some one-shots, others are chaptered. Aranged Alphabetically.
With Sequels
Stories that have been continued. Aranged Alphabetically, in groups by story-line.
Singles

Boots
Relena has pushed too far, Duo shows his owner ship and the many uses of steal toed boots
4/8/2003 - 5kb - pg-13 - Humor - Duo/Heero (2x1)

Boxer POV
A move towards requited love - as told by some rather intimate appearal
6/14/2003 - 2kb - pg - Humor - Heero/Duo (1x2)

Knight - WIP -- parts: 1 2 3 4 5 More soon...
A GW and Harry Potter crossover. Zechs gets pulled into Harry's world. Together they unlock lost secrets, fulfill prophecies, and vanquish Voldimort and his Death Eaters.
11/1/2003 | 9/29/2003 - 22kb - pg-13 - Action/Adventure - Cross-over: HP x GW

Long Day
Wufei has a bad day on his new job. Chapter 2, no rest for the wicked. (Set after EW)
9/5/2002 | 7/14/2003 - 5kb - pg-13 - Humor

Musing
A pilot's musings on Angels
2/11/2004 - 2kb - g - general

No More Drama
Five teens celebrating an end to a war, fighting and the pressure of being heroes. Writen for windles_orbit weekly prompt #7 "Family Affair".
6/22/2005 - 3kb - pg - Duo/Wufei (2x5), Quatre/Heero (4x1)

Operation: Send Pink to the Clink
The boys take care of a small problem. Written for
windles_orbit
prompt #27 "There are very few personal problems that cannot be solved through a suitable application of high explosives."
4/20/2007 - 7kb - pg-13 - Humor - Heero/Duo
Punked
Wufie dresses like a punk, Heero Death Glares and a smirking Trowa
4/8/2003 - 3kb - pg-13 - Humor - (1x2x5)

Wufei's Vengeance
Wufie carries out a plot against Relena. [Interlude to It Started with a Potions Master but can stand alone.]
4/29/2008 - 5kb - pg-13 - Humor - (1x2x5)

With Sequels

Don't Pet the Duo -- co-written by Grayswandir
All you need to know about the fabled Gundam Pilots. Brought to you by Discovery Channel ~ Fangirl. (not a chibi fic)
6/26/2003 | 3/31/2007 - 19kb - pg - Humor, Parody - pairings marked on each story

---
To receive email for new and updated fiction:

Click to join twin_swords