TOTAL RECALL 2070
SINISTER ECCENTRICITIES
---
NOTE: this page contains links to slash stories containing graphic depictions of m/m sex. DO NOT ENTER if you are under 18 years of age or if this material offends you.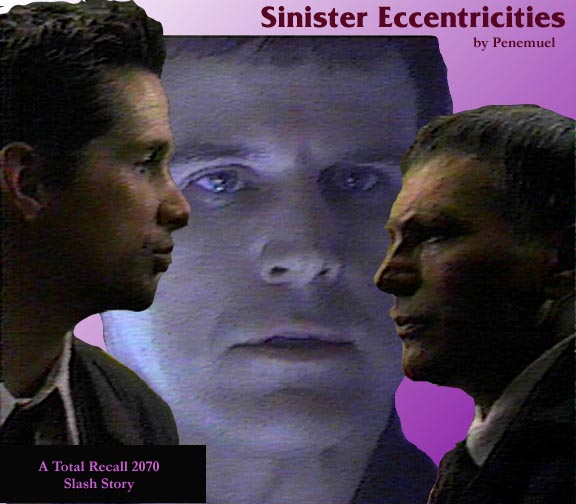 I'm a slash writer -- what can I say? This show definitely does it for me, with the way Farve is always so attentive to Hume and a number of other things all hitting high on my slash-meter -- not the least of which is Nick Mancuso's character Richard Collector! There was quite a lot of tension in the room when he and Calley (Matthew Bennett) were talking to each other, and to find out later that Calley worked (*ahem*) under Collector years ago in the Assessors' Office -- Fanfic potential galore!

And I don't have to mention Collector's extreme interest when he realized what Farve was, do I? Nah, I didn't think so... And does anyone want to discuss the almost-kiss in 'Rough Whimper of Insanity'? Needless to say, I'm working on a story now -- and hoping that others do, soon, too!





My story is still in progress, but what is finished is available here. More parts will eventually follow!


Sinister Eccentricities -- part 1
Sinister Eccentricities -- part 2

The story is rated NC-17 and is NOT intended for anyone under the age of 18. If you are offended by graphic depictions of m/m sex then do not read this story.



Sorry -- page is under construction! More soon
---
---
---
If you'd like to use a banner to link to my site, I've made this one up in Photoshop:



Please save the image to wherever you have the rest of your page saved -- the code for the image won't work unless it's in the same directory the rest of your page is in. Also copy the code from the screen, not from the source code, or you won't get the right characters. Here's the code to use:
<A HREF="https://www.squidge.org/~penemuel/sin_ecc.html"><IMG SRC="sin_ecc_banner.jpg"></A>

---
Return to my home page.
© 2003 arkadi_1@yahoo.com

---
---
updated September 11, 2003
This page is not intended to infringe on the copyrights held by Alliance Television, TEAM Communications, PolyGram Television, or the Showtime cable network.

---