Three Spades Deep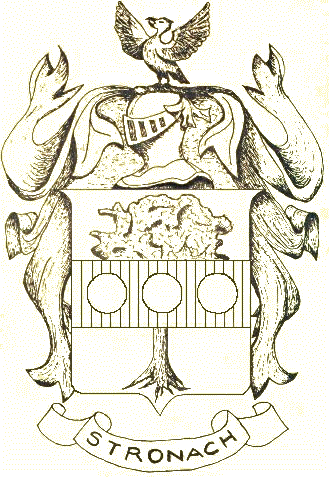 *see note about this coat of arms and the meaning of "Stronach" here
THE STRONACH SAGA
1787

Updated 14 October 2002
I've added some family information provided to me by Stephen Stronach, re: the family of Phillip J. Stronach.
I've also just realised this site has been on the net for just over a year (I uploaded the first files on 23 Sep 2002).
Notices/Disclaimers
The information on this site was taken from the book Three spades deep : the Stronach saga which was compiled by my aunt, Anne (Stronach) Crocker and my late grandfather, J. Mack Stronach, with much help from my late grandmother, Ethel (Lantz) Rafuse. It is about the Stronach family in the Annapolis Valley of Nova Scotia.
Birthdates for those born after 1900 and who are still living will NOT be included on this website, in order to protect their privacy.
Please, do not use the information in this website without the prior, express, written permission of the copyright holder and/or the webmistress. If you wish to share/swap information, please click on the "email" button at the bottom of the page and ask. Thank you.
The information on this site should not be considered 100% accurate, after all much of it came from family sources and old records, the reliability of which can be questionable at the best of times. In all likelihood there are errors or omissions, either in the original source or which occurred during the transferring of the information to the website. If you do notice any errors or omissions, please, email me (click on the link below).
I have not documented the sources of information in the same manner as the book. I refuse to code THAT many superscripts. If there is any question about where a specific reference came from, I will try to track it down.
If you notice any errors or broken links, please, let me know.
All information within this site is © 1987, Anne Crocker. Web design is © Stacy L.A. Stronach, 2001-02.