---

~ Established 7/17/00 ~ Updated 04/19/07 ~
---

Yo ho ho and a bottle of rum
Hoist the mainsail, here I come
Ain't no room on board for the insincere....
MUTINEER ~ Warren Zevon
---
~ NEWS! ~

New Music from Warren Zevon!
"Preludes"
A 2-CD set of early Zevon recordings.
For more information, click the link above
and visit www.warrenzevon.com
HALF AFT is a small, informal place. It is furnished with old rocking chairs, battered packing crates, and mismatched glassware. The juke box selection is biased toward Jimmy Buffett and Warren Zevon. The house drink is Green Stuff. The reading material includes fanfiction and travel brochures for the Florida Keys.
The proprietor is eccentric. And the focus is eclectic.
You will find a variety of things here. HALF AFT will grow and change as I find new links to recommend, add new pages on my various interests, write new stories, and learn more about creating and managing a website. Feel free to link to this site ~ but please do not link to individual pages, or download, print or distribute any of the stories without my permission. If any of these links fail to work properly, please write and let me know.
I hope you enjoy visiting HALF AFT.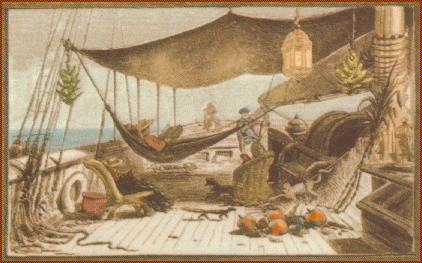 ~ Cover Art ~ "Barometer Soup" ~ Jimmy Buffett ~
---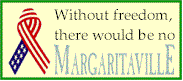 ---
~ Explore Half Aft ~
HALF AFT
STUDIO
updated 01/05/07
Images of my original artwork, and information on sales and commissions.
FLORIDAZE
updated
12/27/06
Information, commentary, musical notes and other miscellany about Jimmy Buffett, Parrotheads, Key West, the Florida Keys & Points South
Tales of the
KEY WEST FOREIGN LEGION
updated
6/15/05
Some semi-true stories about a phlock of parrotheads who found paradise on Key Lime Key
HALF AFT
BAR STAGE
updated
04/19/07
GreenWoman's favorite musicians.
WARREN ZEVON
updated
11/28/04
"An idealist wrapped in cynic's clothing."
Bruce Springsteen
FANFICTION LIBRARY
A home for fanfiction by GreenWoman and my friends
updated
2/14/06
GreenWoman's Fanfiction
Star Trek: Deep Space Nine
The Magnificent Seven
The Sentinel

Apache's Fanfiction
The Adventures of Buckaroo Banzai
Forever Knight
Pirates of the Caribbean

Amy's Fanfiction
The Magnificent Seven
Harry Potter
Original Fiction

PHOTO ALBUMS
updated 12/12/06
Photos of my animals, my plants and gardens, my favorite places, and other pictures.
AOL TREKKERS OVER & AROUND FORTY
updated
5/12/02

The USS Fortyish, a Tepid-Class Starship, home of Half Aft

OTHER PORTS
10/12/06
Other interests, obsessions, information and links.
---
GreenWoman's Words to Live By
---
There is humor in everything, no matter how grim.
~ Warren Zevon ~
Breathe in, breathe out, move on.
~ Jimmy Buffett ~
Be cool, but care.
~ Buckaroo Banzai ~
What just happened here?
~ Ezra Standish ~
---
Sign My Guestbook ~ View My Guestbook
---
---




---