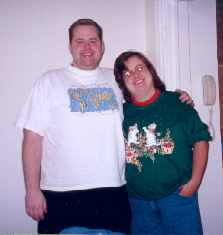 Here's two of my favourite people!
On the left is John, my birthday twin. He always seem to boost my morale up! Meanwhile giving me advise on computers and getting frustrated with my computer as I am! :)
On the right is Steff, one of my best friends. No words can express the longevity of Steff and my friendship. We live miles apart and she manages to still be there for me, putting up with me through alot of crap. I don't think she will ever know how grateful I am for her love and friendship.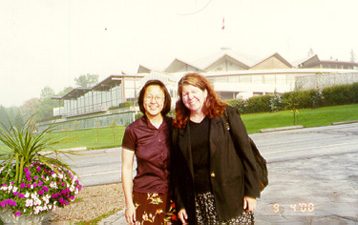 Probably the biggest surprise during the Brendan Fehr appearance in NYC was how *little* Kathy and I talked when we met and how much we had to say *after* we met! Now she is my evil twin who constantly worries and thinks about me whenever I am going through a crisis. We still have so much to say...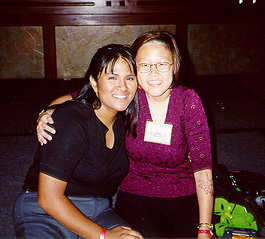 This is Zaida, who I met off the Fan Forum boards. For someone I barely knew, she has become the person who I talk to every night about things in my life that bug me - depression, job hunting frustrations, my fears....you can't know how touching it is to have someone who shares so much with you as you do with them.

This is Amanda with one of her two cats, Oscar. I met Amanda on a mailing list and when I arrived in NYC for a OLTL Luncheon, we met and suddenly became good friends without even realizing it. She's a wicked screenwriter who is probably going to forget all about me when she becomes big and famous! :)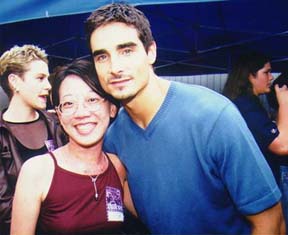 This is Tina (Ashbaby) with Kevin of the Backstreet Boys! She's one of the lucky ones. :)
When she's not too busy being Spike-d, she's one of my closest friends even though she lives in Singapore! She is just as naughty as I am! :) We try to keep in touch as much as possible.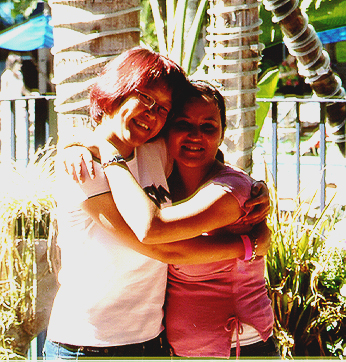 This is Mari. Everytime we see each other, we have to give each other a *huggle* which is what you're seeing in this picture! :) She's an amazing friend and I hope she never forgets it and her daughter Tayah is such a darling!
Diane and Peter (not pictured) who are just a pillar of strength for me. Their relationships, their love, their advise....I treasure it all....
To those on my Bipolar mailing lists who share everything with me even though they don't know me an allow me to vent and talk about my depression without a person who doesn't understand saying, "Stop ruining my evening." I truly appreciate the help and support you have given me.
Back to Special Agent Jazz Files