Candy's Place
Fan Fiction Written by Candy Apple
The following stories are intended for mature readers, and may contain some homoerotic themes, appropriate for age 18 or older.

CLICK ON THE PHOTOS TO VISIT THE PAGES.

---
Latest Updates

---
---
---
---
---
L-R: Klink, Schultz, Hogan, Kinch, LeBeau, Carter, Newkirk

---
The Crow: Stairway to Heaven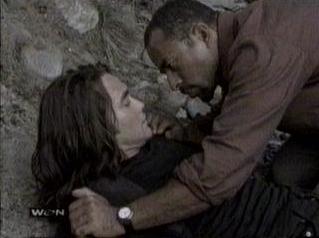 Visit The Sentinel Stand Alone Stories Page to read The Eighth Circle, crossover with these two gorgeous men.

---
Links to Virtual Seasons
Starsky & Hutch
The Sentinel

---
Snippet Collection
Click here for Snippets and "slices of life" from Starsky & Hutch, The Sentinel,
and the S&H/Sentinel Crossover Universe, Outside Influences.

---
Works in Print Zines
A listing of some of my "in print" works.
---
Trophy Room
Awards won by the Author

---
A Story for Trilly
A Memorial for a Lost Sentinel Fan

---
---
Characters featured in these stories who have appeared on the TV series The Sentinel, Starsky & Hutch, Hogan's Heroes, Nip/Tuck, and The Crow: Stairway to Heaven are the property of those holding legal copyrights to the shows or their characters and stories. Any original characters belong to the author. No money is changing hands on these stories, and they are written solely for the entertainment of fans and sharing with friends. No infringement is intended.