Dedication (as it is in the book, by J. Mack Stronach)
This book is dedicated to my great grandfather, "GEORGE STRONACH", who had the courage to be a pioneer and the widsom to settle in Nova Scotia.
SOME DESCENDANTS OF GEORGE STRONACH from 1874-1986
~THE BEGINNINGS~
The information contained within these pages is the result of what my father, J.M. (Mack) Stronach started many years ago. He began with a barebones skeleton, put together from old family stories. As various members of the Stronach clan were contacted wherever and whenever they could be found, the branches of the family tree gradually acquired many names and dates.
Much appreciation must go to all those people of the Stronach clan who shared their family records. Special thanks to Mrs. Jan Hefernan who researched and provided much data from the Boston Vital Records concerning many branches of the family, and to Mrs. Ruth Henshaw for her considerable help and support. Also a thank you to my mother, Ethel Rafuse for her help with research and typing.
No doubt there are errors and/or omissions in this family history so I would invite anyone who has further information orcorrections to offer to write me at the following address. [NOTE: Due to privacy concerns, I am not including my aunt's address, please email me with any corrections, etc, and I will ensure they are passed onto her.]
Mrs. A. Anne Crocker

GEORGE STRONACH
THE BEGINNINGS
George Stronach was born in or near Glasgow, Scotland, about the year 1767. In W.A. Calnek's History of the county of Annapolis is one story of how George came to Nova Scotia.
This story says that Geoerge was born in or near Glasgow and was the son of a merchant of that city. He was sent to a High School to prepare for a University course after his mother died, when he was about fifteen or sixteen. He either disliked school or else disagreed with his stepmother, or both, and left the coach which was to have taken him back to school after a vacation at home. He took a ship to America and landed at Halifax, then being about eighteen years of age. This story is basically the same as one in E. M. Saunders Aylesford and Wilmot Township from 1760-1800. However, Saunders appears to have written a more colourful account so it is included here verbatim.
"Near Glasgow in Scotland, a Mr. Stronach was so unfortunate as to lose his wife. But like many other a widower, he got another; and this marriage, like others of its kind, brought troubles with it. George, an overgrown boy, quarrelled with his stepmother. After this had gone on for a long time and the afflicted father, despairing of finding a remedy for hs domestic discomfort, at last hit upon the plan of bribing the unruly son. He offered him five pounds if he would never give his stepmother any more trouble. The boy accepted the money and made solemn promises that he would never, as long as life lasted, annoy his stepmother again. To be as good as his word, he pocketed the cash and started for Glasgow. There he found a ship ready to sail for Halifax, to which city he made his way as fast as wind and water could carry him.
Here he met Benjamin Fales, who had come from New England with General Ruggles. Fales had already hired with the General to work on his new lands in Wilmot for a certain wage; and at the end of a specified number of years to get, in additon to his wage, a certain number of acres of good land. B. Fales introduced Stronach to the General who soon made him one of his staff of laborers.
These two young men, Fales, a great wit, and Stronach, as great an oddity, fulfilled their engagement with the General, got their lands, cleared away the forest, and spent long and happy lives on the North side of the Valley and left behind them a numerous progeny. Many are the anecdotes handed down of these two geniuses."
Calnek describes some of the labors of Fales and Stronach in detail and, as this has also been among family tales, it is included as well.
"It was the hands of these men that excavated the noble cellar over which the old Loyalist erected his new mansion; (this cellar was said to be nine feet in height, and the steps leading to it, were of dressed Quincy granite, brought from Boston). Their hands it was which prepared the land on which an orchard of apple trees was soon planted, and it was their hands also that planted it. Their orders were to dig this piece of ground, say about an acre, three feet deep and to throw every root and stone out from it. The trees were brought from Massachusetts, and when planted, formed the first orchard in that section of the country."
The land that Stronach and Fales settled was, according to Calnek, in part payment for the labors described. This may be partly true, but the original deed for one thousand acres on that part of the North Mountain that is now Stronach Mountain was between Rufus Chandler, Esq., grantee of said acres and Stronach and Fales, purchasers of the same. This deed is with family papers as well as an oath of allegiance sworn by Rufus Chandler at Halifax on 21 September 1789, and also, a promissory note to Timothy Ruggles for thirty five pounds, dated 21 September 1789 and signed by Benjamin and Rachel Fales and George Stronach. The division of the land was five hundred acres to each man, Fales taking the western portion and Stronach, the eastern part. The boundary line between the two properties was supposed to have surveyed out by George Stronach, and today forms a portion of the Stronach Mountain Road.
George Stronach built his home just above a stream which bears the name of Stronach Brook, and claimed bounty for clearing 2 1/2 acres in 1807. By this time, he was well established as a family man, having married Mary (Polly) Fales, a daughter of Benjamin, about 1790-91. They had at least five sons and four daughters who married, and in due time, supplied them with many grandchildren. The house that George built was the first frame house built on that part of the mountain, if traditional lore within the family is true. It stood the test of time fairly well as it was not torn down until the early 1920s, quite a few years after the second (and present) house on the property had been finished and occupied. (Later on, some of the lumber taken from the old house was used to build a shed on the property now owned by George's great great granddaughter (and her family), who is the compiler of this family tree). The remains of the old cellar of the original homestead are readily visible, along with the old lilac bushes still growing nearby. A sketch, drawn from an old photo of the first house, done by George's great great grandson, Dale Brown, is in the keeping of the Annapolis Valley MacDonald Museum, Middleton, N.S.
In 1809, a William Ogilvie petitioned in Halifax on behalf of himself, John Ogilvie, and George Stronach, to obtain a grant of land, 1000 acres in all, on the South Mountain in Aylesford (Township). This petition states that they were all from Scotland, had settled in Wilmot on purchased lands, and had not received any grants from the government. They also stated that they were not citizens, but would take the oath of allegiance at any time it was demanded of them. William Ogilvie asked for 200 acres for himself, 300 acres for John Ogilvie, and 500 acres for George Stronach. The land grant papers at PANS. [Ed. note: Public Archives of Nova Scotia, now known as Nova Scotia Archives & Records Management] indicate that their petition for 1000 acres was granted. It is likely that George's son, Rev. Ebenezer Stronach, eventually settled on these granted acres as it was his progeny who lived in that area in later years. It is also quite possible that the two Ogilvies who petitioned with George Stronach were the same Ogilvies for whom Ogilvie's Wharf in Kings County, on the Bay of Fundy shore, is named. They established a grist mill there and local lore has it that some of that same family relocated to Ontario, becoming the originators of the well known Ogilvie Oats Company. (This information about the Ogilvie family is added only as a matter of passing interest; I have no proof about the matter one way or the other--A.A.C.)
George and his wife, Mary, were active in the Baptist faith. They bought a half pew in the Nictaux Baptist Church, the other half being owned by Colonel Bayard. Among old Stronach family papers is a receipt for five pounds, for half pew No. 9, dated 4 September 1815, and signed by Nathaniel Parker, of the church committee.
Mary Stronach died in December of 1829 and was buried on New Year's Day, according to a reference made to her passing in the obituary of her husband, George, published in the Christian Messenger Newspaper in 1847. Nothing is known///// of where she is buried.
After a few years, George married again, this time to a widow. In Calnek's History of the county of Annapolis, he states that the second wife was Elizabeth O'Connor, nee Merritt. In researching the parish records for Granville, where the name of Merritt is prominent, there is contained therein a marriage recorded as follows : On November 15 1821, By Banns, by George Best, Missionary at Granville, Samuel Merritt, Bachelor of the parish of Granville, married Elizabeth O'Connor, spinster of the same parish, in the presence of Nehemiah and James Merritt." Elizabeth's death record states that she was born in Yarmouth, and it is known that an O'Connor family was located near there. It is quite possible that the surnames in Calnek have been reversed and that the person named in the Granville marriage record is, indeed, the same person who married George Stronach as his second wife.
At least two sons and one daughter were born to George and Elizabeth. George wrote his last will and testament on 14 July 1841, and died in March of 1847, being past 80 years of age. His widow was left to raise their young children alone, and did not remarry. She died on 15 May 1868, at the age of 68 years, and was laid to rest in the Wilmot Plains Cemetary.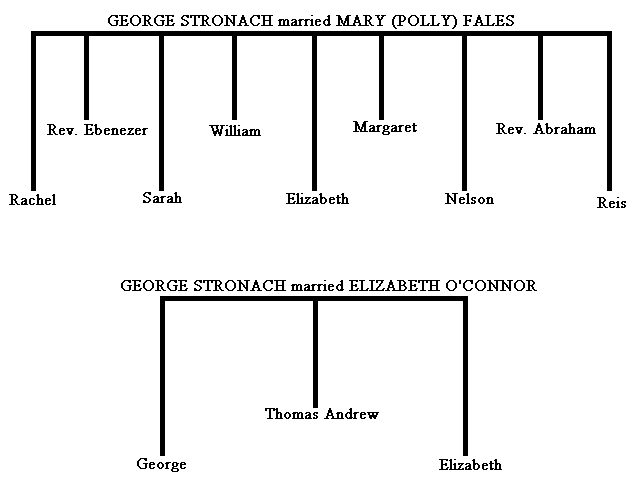 To view genealogical information starting with George Stronach click the link, otherwise, click the Name Index button to start. Thanks.