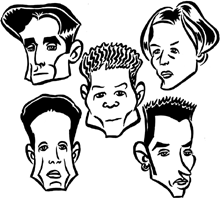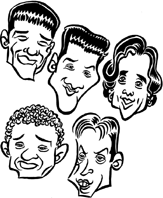 So...um, yeah. Here's where we review slash stories from the boy band fandoms. The most popular boy band fandom is 'N Sync, followed by the Backstreet Boys and an as-yet very small O-Town community. If we have any other RPS stories we feel like reviewing, we'll put those in this section, too.
Boy band stories are reviewed and/or critiqued by our resident boy band expert, Nancy Spungeon. Nancy would prefer to do stories that are volunteered. However, since none have come in of late, she will troll the mailing lists for non-volunteered stories if she has to, as was the case with these first two. If you'd like to volunteer your story for review, e-mail Nancy at sidandnancy@antisocial.com. Come on. It'll be fun. We're all friends here, or at least most of us are.
The above cartoons came from The Caricature Zone.
Bitch to Nancy or Jane.