There's also a big difference between having a kink and having a fetish. A kink is an activity or accessory that you enjoy, while a fetish is one without which you can't get any pleasure.


p u m p i n g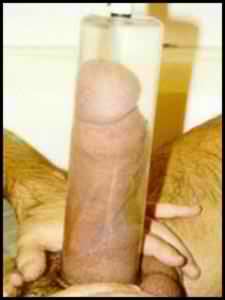 As long as men have been around, they've been trying ways to make their dicks bigger. From hanging weights, to magical potions, to high-tech vacuum pumps. An acrylic tube attached to a small pump is placed over the penis, and the air evacuated. This draws more blood into the organ, which increases the size. Lots of claims have been made about this method, and a few of them may even be true, but I'd be *real* reluctant to try it. Supposedly it also increases sensitivity and intensity of the orgasm. See the Vacuum Pumpers Site for more.



3 ' s & m o r e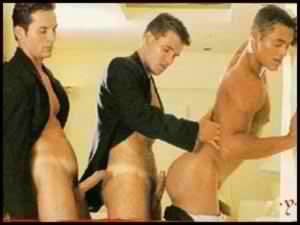 "Two's company, three's a crowd". Not always. This is something that most guys want to try, and that many couples get into after being married a while. The possibilities range from committed and stable threesomes (a menage, or triad) to major group orgies where you're not even sure whose dick is inside you. There's a whole newsgroup devoted to polyamory ("loving many"), alt.polyamory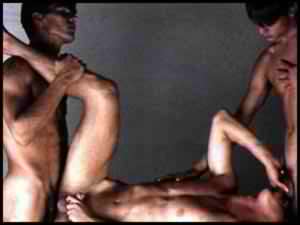 From a purely sexual perspective (and that is what this site is supposed to be about, isn't it?), the logistics of multiple partners can be tricky at times. Probably the most common configuration is two-on-one, where one guy gets it from both ends. This is an incredible experience, being surrounded and satisfied both ways.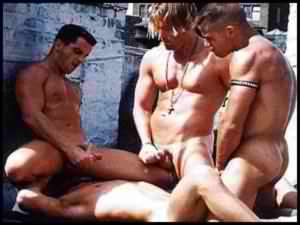 Also common is two (or more) sharing a third, taking turns. With a little luck this can go on all night... (btw, if anyone recognizes what movie this pic is from, let me know...)

Which leads us to larger groups, and gangbangs. A gangbang is where one guy acts as bottom for a number of others, servicing them with his mouth and ass. I remember a scene in a porno flick (but have no idea what the title is) where one guy was bent over sucking cock, while behind him stretched a line of men waiting their turn with his ass. I counted a total of 23 (yes, twenty-three) different men fucking him in that one scene. This is a little misleading, as in the Real World bottoms usually outnumber tops, and one guy getting that many is just plain greedy.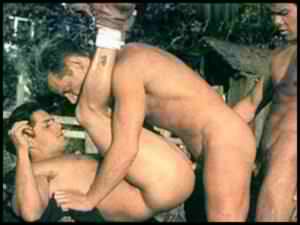 One guy can also play sandwich filling. This takes a little concentration and a sense of rhythm.. but can be worth the extra effort.
I don't know of all that many multiple-partner slash stories (except for the "Party at Vachon's" series and some C/P/K), but there's a ton of gay erotica and porn devoted to the subject.


p i e r c i n g
The act of being pierced can be erotic in and of itself, and having the jewelry to play with can add some wonderful spice. Nipples, navels, noses, balls, cockhead, and perineum are only a few of the places people put shiny bits of metal.

The Puncture Gallery is a great place to find out more about body art and piercings.
s p a n k i n g
"Spare the rod and spoil the child." Some guys get off on the feeling of a good sound spanking.


g l o r y h o l e s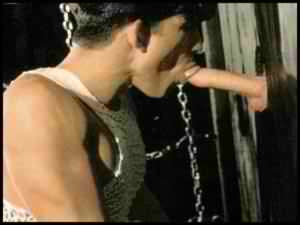 Anonymous sex isn't everyone's cup of tea. But for those who are into it, it can be an incredible experience. Sex without all the bullshit, no talking, no strings, no emotional garbage, just pure sex. Glory holes are holes in walls, sometimes in public bathrooms (though I've never actually seen one in a public building) or in sex clubs. You stick your cock through, and someone sucks it. No faces, no names.. just a blow job.



p u b l i c s e x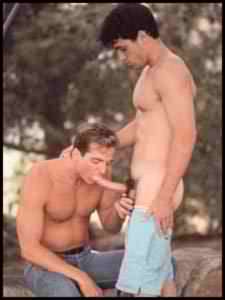 George Michael knows all about this subject. Some people get off on the tang of danger in public or semi-public sex. Rest stops, parks, bus stations. The Aussies call them "beats", the Brits "tearooms", whatever the name, they are places all over the world where men gather to have sex. They spring up organically, no one plans them. Usually found in neighborhoods with high concentrations of gay men, but also in areas where there are no gay bars or other places where we can gather. These aren't just places to get your rocks off, for some men in isolated communities or who are deeply closeted, these may be the only contact they have with other gays.


a n o n y m ou s s e x
These three things are closely related. Sex isn't always about emotion for men. Biologically we're programmed to try to spread our seed as widely as we can, to maximize our potential for reproduction. Culturally this manifests in the difference between a "slut" and a "stud". When a woman is promiscuous, she's a slut. When a guy does it, he's a stud (though calling a gay guy a slut or tramp is a compliment).
(April, 2005 - Somebody recently took offence at this previous paragraph. Just to make things perfectly clear to those of you who might not have understood - I am not calling promiscuous women sluts. I am pointing out the fact that our culture labels them such. Like anyone else with a lick of sense, I think it's stupid, and it's clearly a double standard. But then, you already knew that, didn't you?)
This is a difficult subject, even among gay men. There are guys who intensely disapprove of the practice, arguing that it promotes unsafe sex and is emotionally unfullfilling. Others point out that the lack of emotional entanglements is the major attraction of anonymous encounters, and that sex clubs are excellent venues for safe sex education, there being the opportunity for immediate hands-on practice.
I tend to agree with the second group. At sex clubs there are no games, no head trips, no 'getting to know him', no emotional garbage, and less attitude. Just plain sex. Sometimes all you really want is some cock.