Pirate Vindaloo, Chapter 16
The Birds Fly
by
Rating: PG-13
Disclaimers: The Rodent Empire owns them. We pilfer.
Originally Posted: 6/21/06
Note: Our sincerest and hearty thanks to smtfhw for her excellent beta.
Warnings: Potential spoilerish appearances for those who are adamant
Summary: The escape plan is complete and Captain Sparrow and Co. wheel into action. There is another cast portrait in this chapter.

It was already past dawn on the next day when James awakened again, smacking his lips and stretching like a cat. He nearly fell head-first to the floor: someone had tied his ankles to the bed with green silk. He rolled over, glared and took a deep breath when he noticed two things. One, Jack was in a similar predicament, tied with more of the green silk; and two, giggles. Loud giggles from the other side of the room. "Darlin', I don't have an extra shilling," Jack muttered into the pillow, only half-awake, but pretending to be in the grip of a dream in his most theatrical fashion. It could never be said that Sparrow was incapable of laughing at himself. He did it all the time and usually others joined him. He rose on his elbows and arched an eyebrow. "Practisin' knots on yer shipmates is right admirable, mates, but methinks Jamie's bits an' pieces are goin' take chill." "Ain't it your task t'keep 'em warm?" Bertie and Berkely were leaning against the wall casually; little Matthew grinned at them from over the footboard. The blankets were gone and James gave a hiss before pushing himself up into a position that, while not dignified, did not put him on display quite as much. "Th'way I see it," Bertie began, circling the bed just out of reach, "Ye've been keepin' quite the story from us. An' seein' as how yer always runnin' off t'shag when yer not tied down..." Berkely guffawed, standing on the other side of the bed to grin down at Jack. "We thought we might get some answers like this." Jack looked up through the tangle of his hair. "Answers t'wot, luv? Hey, barnacle, be a good lad an' bring me my flask, willya?" He glanced down at himself. "Y'know, green really ain't my colour. Looks much better on Jamie." "If ye want yer hands tied as well, I'll gladly oblige." Bertie slapped James' hands away from the knots, shaking with laughter. "Obviously enough ye two've been up t'some mischief. I sense a story if there ever were one, and I wanna know it. And," he lifted Jack's coat, weighing the pouch with the card game's wager and winnings, "I wanna know where ye got these." Matthew giggled at the bright sound of the clinking coins and bounced to deposit the flask on Jack's chest. Jack smile was slow and sly, inching along his lips like the rum that poured down his throat. His eyes met James' with no expression except the light dancing in the depths of them. "Oh aye, that's a story, but you saw me win the coin." He took another swallow and pouted at the empty flask. "Any chance of a refill?" "Storytelling's thristy work, ain't it?" Berkely grinned widely while Bertie draped the pink silk around the bedposts as if to decorate it for newly-weds with bad taste. "And the pearl you found on the tavern floor? Eh, lay off that. We don't want ye drunk when yer telling that tale. 'Twill be unbelievable enough as is." Jack leaned back against the rough headboard with a smirk. "Well, you all recall when Cap'n Hamilton was itchin' t'get at dear James here and had him flogged? I'm sure you all know there's better ways o'keepin' things civil shipboard. Never felt the need t'keep a cat aboard m'self. Much." His hands fluttered distractingly. "But, as I were sayin', James were being beaten raw an' me, bein' the protective soul I am, was fit t'skewer the Irish bastard with Cookie's spit." He toyed with the flask and scowled at it. "Don't think Cookie's spit can turn 'is blood to pearls." Bertie tossed the pouch of coins from one hand to the other, but Berkely's forehead had creased into a frown. Realisation began to dawn, but he kept silent, trying to stifle his laughter at James' silent outrage. Jack's dark eyes drowned them in mischief. "Bein' as the best way t'run a man through the gizzard is in his pocket, I nipped down t'his cabin right quick while you lot were watching poor Jamie take his stripes. " He tried to pull his legs up and sulked momentarily, his hands mid-air. "I've been 'round many a ship and cabin, so I know exactly where the hidey-holes are likely t'be, aye? Sure enough, I find one of 'em. An' wot d'ya think was in it?" Between the flailing fingers and those intent eyes, they were mesmerised. The golden grin served to seal the spell. "That's not the half of it. Now wot self-respectin' pirate captain goes hidin' plunder like that where none of his crew knows?" Jack's expression was guileless. He wiggled one foot free of the silk and wrapped his right arm around his knee, the brand and tattoo beneath it plain in the morning light. They'd seen both before, many times, but the light of Jack's grin seemed to make them glow. Bertie choked, the pouch dropping to the floor with a chime. "Jack...Jack SPARROW?" Berkely only raised an eyebrow. Matthew's gaze shot up, and he stared at Jack like something just stepped out of a story. "Captain Jack Sparrow," James drawled. "Would you now please untie us?" Jack beamed, bridled and bowed with a flourish, looking remarkably pleased with himself, or, at least as pleased as any naked man tied to a bed by one ankle could possibly look. "At yer service, mates. Now, you'll all understand how distressed I was to find my own self pressed inta yer crew an' all. But most of all," he lifted one finger, "I was disgusted with any pirate who'd be cheatin' his crew of their fair share. There wasn't time to discuss the matter, me bein' at such a disadvantage, so I hid 'em. Only sold one and I believe I won back more than its value." He sighed deeply, looking aggrieved. "I must admit I was shocked. Simply shocked." He shook his head sadly. Bertie stood frozen as James untied first his ankles, then Jack's, swiftly dressing in his breeches. James kept silent and let Jack talk. This was not his domain. The distribution of prize shares was not his task, and he knew too little of pirate custom to interfere. "What proof have you? Why'd Hamilton cheat us, and who tells us you ain't doin' the same?" Jack shrugged. "Have I tried t'cheat you?" he answered simply. He got to his feet, blithely ignoring his nudity, which made the fearsome shot scars on his chest and the twisted burns on his left arm all the more evident, of which Jack was as aware as any actor. He picked up his coat, his hand slipping through the pockets into the lining and tossed the contents onto the bed. If James noticed that there were a few less, he had the good sense not to mention it. "That's the rest of 'em." Bertie and Berkely were gaping while little Matthew approached and hesitantly reached out to touch the gleaming stones, rolling them around on the coverlets. "Why would he lie?" James' voice was quiet, calm, reasonable. "If those were his, what reason would he have to claim he found them in Hamilton's cabin?" Jack pulled up his breeches and disappeared under the billows of his shirt. "Ye can believe wot ya like, but that's the bloody truth of it. And if you know who I am, wot reason would I have t'show you if I didn't mean you well? As it were." He went about fixing his eyes and settling his headscarf, studying their faces in the mirror as he preened. "I don't know 'bout you lads, I think you all deserve the proceeds, and prob'ly a lot more. He's been playin' you all. Just my professional opinion, of course." They were both whispering agitatedly, pointing at the stash of jewels, the words 'Hamilton' and 'Jack Sparrow' audible several times. Eventually they pulled apart, staring at Jack. Not Spanish Jack, insane shipmate, but Jack Sparrow, legendary pirate. It was Berkely who spoke eventually. "I been 'board the Chimaera for nigh ten years now, and I never suspected a thing." Jack grinned at him. "Didn't say he wasn't a damned slippery eel, did I? He's good enough but I don't hold with this. 'Tis against the Articles an' wot's a privateer but a fancy name fer a pirate doin' one king or another's dirty work? Now, wot I wanna do is get home to my own fair ship? You may have heard of her? The Black Pearl?" Jack slung his coat on and the amiable, wobbly shipmate was quite lost in the glamorous shine of Captain Jack Sparrow. "Besides, " he pouted, "I want my hat!" Berkely crossed himself while Bertie laughed shakily, then swallowed and shook his head, as if to cast off a chill. "Are you from the Pearl too?" James shook his head with a wistful smile. "No. I hail from another ship." Bertie frowned for a moment, mouth opened for another question, but then pointed towards the treasure vault on the bed. "What're ye planning t'do with this?" "Make sure it gets where it belongs, of course. " Jack's eyes were absurdly innocent. "Course, I do think the gold is mine, fair and square. I did win it. You lads wanna take them sparklies back to the rest of the crew? By the way, I can guarantee he's gettin' underpaid fer that ivory haul, too. The bugger buyin' it is an East India man and a rotten cheat. Wot were yer promised shares anyway? No one ever bothered t'tell me." Bertie shrugged. "Ain't talked much 'bout it, but we figured th'usual. 'Bout enough t'pay for this shoreleave here 'n the next, maybe get a new shirt or a lil' something." Berkely wordlessly tucked the jewels into his own small pouch and held it up. "Y'really mean t'give those back to th'crew?" "Why not? They earned it. Me, I plan on gettin' back to the Pearl and, aside, from a consideration of sorts, just to recompense all me lost time an' plunder, I don't steal from me own or shoot unless I been shot at first, savvy?" He grinned at them, the heaved a little sigh. "Of course, I could get us all back t'the Spanish Main with a hold full o'plunder and never have to fire a cannon, but...." His voice was airy, as if discussing the price of coffee or the regrettable mistakes of other men of business. "Those ain't mine and I'd hate to see them in the pockets of such a scurvy knave as Hamilton when 'tis only yer due." He picked up the purple veil and looked at them through it, gauging sidelong glances and nervous mouths. They chattered wildly, and only James seemed to notice how Jack's grin grew sly, then feral, then once more utterly innocent when Berkely turned and cleared his throat. "Awright, Span- Sparrow. We gotta think on it and talk to th'lads. What yer talking of is bloody mutiny. But," he lifted the pouch, "if what ye say be true, then I doubt many a hand will want t'continue sailing wif Hamilton." He stashed it away, "I'll be taking these with me as witnesses. And if ye lied, ye'd better hide well." Jack turned his head with a lazy smile. "You do that, and tell 'em if they really want some loot, they'll think hard. I been with you lot fer more n' a quarter year and I don't aim t'spend another sixmonth gettin' home." His eyes were dangerous. "But it's your call. If you want a real share of real plunder, we can come to an accord. If not, " he shrugged expressively, "I'll just have t'find another way, won't I?" He didn't elaborate on what that 'other way' might be, but he could read it in their eyes. No one wanted to be on the wrong side of the Captain of the Black Pearl. They eyed him as little Matthew had eyed the tigers: curious, intrigued, and with no little bit of fear. But there was also anger, outrage at the thought that Hamilton would have cheated them thus, and the instinctive call for compensation, no matter by whom. The jewels were a gleaming testimony to Jack's words - why else would he allow them to carry them away? "Awright, Sparrow. Ye'll hear from us." Bertie and Berkely strode out, like a jury passing judgement. Matthew tugged at Jack's coat, staring up at him with wide eyes. "You're the Captain of the Black Pearl?" "Aye, barnacle. And such a fine ship she is!" Jack grinned at him. "You'd love her like I do." Matthew's eyes were wide and he nearly tugged Jack's coat off. "Can I see 'er when we're back in the Caribbean?" Jack swung him around and perched him on the table, his eyes sparkling. "You will indeed. Oh, Mattie t'stand on her quarterdeck and watch those black sails billow! Like nothin' ye've ever seen, luv. Right, Jamie? James?" "She is a most fine ship." James gave Matthew a crooked smile and ruffled his hair. A pirate ship was no place for a boy like Matthew, but where would he take him? To Port Royal? Will Turner had been fortunate all those years ago, to stand under the new Governor's own protection; he doubted Matthew would be as lucky. He straightened and his smile widened. "You will love her." Jack stretched and lifted Matthew back to the floor. "I'm starvin'. Let's find some breakfast and then we've got work t'do." He sauntered toward the tavern of the card game, though only the angels knew how he remembered its location. As he'd expected, the crew of Dutchmen were gathered in one corner, morosely passing a bottle. Thrilled to be part of the unfolding adventure, Matthew bounded between them like a hyperactive pendulum, his eyes wide as Jack leaned forward over the table to talk. His face was golden in the lamplight, teeth bright as he used his bootknife to slice up gold coins and let them pass the pieces among them while he signalled for a fresh bottle. James shifted closer, snatching Matthew by his collar to keep him near. He waited until Jack leant back, that sly little smile on his lips showing he was extraordinarily pleased with something. "So?" The light reflected a wink of gold and the elusive, hypnotic scent of money as Jack grinned at him. "We're gonna get that ivory back. Rememer wot I said about the opportune moment, mate? It don't do t'miss 'em." His hands reached up automatically to settle his missing hat and he pouted. "Mattie, there's gonna be a lot o'runnin' about today. Ya fit fer it? You, Jamie?" James stared ahead for a second, then focused and nodded. "I am." He downed the rest of his mug in one go, slammed it down on the table and rose. "Matthew, I want you to stay close to me at all times. If you cannot keep up, shout. Do not run ahead. Can you do that?" Matthew nodded with wide eyes, a gleam in them that reminded him far too much of Jack when he was about to do something forbidden that he usually called fun. "Course I can, James." Jack rose, following one of the Dutchmen and his gigantic Russian friend to the door. "Jamie, you stick close to Van and keep order behind me. We're just a bunch o' drunken sailors out fer a stroll, savvy?" He winked at Matthew and elbowed Van Gotter in the ribs with a laugh. Outside, the sunlight seared their eyes after the gloom of the tavern. No one looked twice at the score of men wavering through the dusty streets, calling to merchants and laughing uproariously. Jan, tall and fair, led them through alleys and crooked ways hardly wide enough for Matthew to pass and they all fell quiet as dark faces peered down from latticed rooms and the buildings became more solid, the street broader. They cut through straggling gardens, a silent parade. Here, the houses looked more familiar to James, European-built, hugging small gardens to their rears. Jack paused to whisper to Vorst, thick and slow, and half their number followed him around a corner, the rest staying close on Jack's heels until they came to a neat gate behind a fine home. They could smell frying from the kitchen as Jack vaulted the gate and dropped down behind a clump of foliage. "Awright. We're goin' in. I'm bettin' he stored it down at th' dock, so all we need is the key. Mattie, you stay with Jamie. Ready?" A brief glance showed their group complete and James nodded tightly. "Ready." Jack sauntered to the back door, signalling them all to stay low and neatly picked the lock. He beckoned and swaggered inside, stilling the small, round native cook's screech with one hand, the other magically producing a shilling which kept her quiet. "Van, go round the front, get the others inside an' lock the doors. Jan, keep the the servants quiet." Jack glanced into the corridor with a frown. "Where's his bloody office?" He had one of the kitchen knives in hand and gestured with it impatiently. "Keep it quiet!" James jerked his head at a door, almost hidden next to the large butcher's block. "Servants' stairs. We'd better go through there." Jack grinned at him and put one finger to his lips. Never had James supposed that ten sailors and one boisterous child could be so silent as they crept up the narrow staircase. Jack poked his head into one bedroom, saw the large double-doors at the end and the corridor and smiled like the cat that got the cream. "Oh Johnny, my joy, come forth from thy dark despair..." His song was mocking and shattered the silence as Vorst threw the doors open.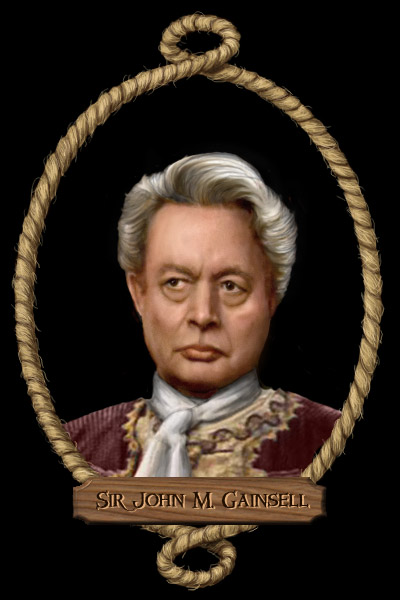 Sir John Gainsell was on his feet, still in his dressing gown and the coffee spilled across the paper of this desk. Jack emerged from behind the giant Russian with a salute. "Mornin' luv. How nice to see you again. Did ya miss me?" Gainsell pulled his considerable bulk up and opened his mouth, stopping when Jack sat on the desk, pushing the soiled pages away with one careless hand and holding the carving knife at his jumping Adam's apple. "Cookin' the books again! Tut tut! Yer a very naughty lad!" Gainsell gulped, his eyes bugged out in recognition. "Sparrow! Why aren't you dead?" Jack's head tilted to one side. "They missed. But not fer lack of you tryin', eh? Sit down." He turned to James, his face sharp as a fox's in a henhouse. "Best take Mattie with ya, luv. Find us a coupla decent blades." Gainsell's face was purple. "You! You..." Jack smiled sweetly. "Pirate. I know. Sit down." James nodded sharply. "Andre, with me." They tore through the rooms, yanking swords from the wall. In the library, James smashed a vitrine with pistols, shoving one into his belt. "How many?" "Acht," Andre hissed, hauling another blade from the wall. "Neun." "Excellent. Up." Only a few minutes had changed things drastically: Sir Gainsell sat tied to his chair, trussed up like a goose, so red in the face that James half-feared it was blood. He tossed the other pistol at Jack. "Does he have any powder here?" "Prob'ly somewhere stupid. Try the wine cellar. Or that fancy case over in the corner. Now, I'm really tryin' t'be a reasonable sort of man, Johnnyboy. You played me a damned dirty trick five years back but I'm of a forgivin' nature. Where's the cargo ya bought from Hamilton?" Jack shrugged and sighed dramatically. "I'm sure you remember Ivan here. He weren't too pleased t'be left behind when you sent the Deventer off t'do yer biddin' and left the crew high an' dry." James shook his head, bent over the desk, examined it briefly and yanked at a hidden catch. "Still the same desks they tried to trade a decade ago." The drawer slid open easily and revealed two pouches. Spare shot and powder. He poured them together, divided it so that there was half in each pouch, then tied them closed and tossed one at Jack, tying the other at his belt. Gainsell eyed the huge Russian and his fists. He mumbled something and Jack leaned in too close, his eyes like pistol bores. "Mind speakin' up, luv. Yer mumblin'." He nonchalantly examined the pistol and handed it to Ivan. "Load it." His eyes never left Gainsell's. "Sir John, yer bein' dreadful difficult, but mark my words. I'll get that ivory, if I hafta shoot every joint in yer bloated body." For that one moment, Jack was truly frightening, his smile wolfish. "Please?" That rather ruined the effect, but Gainsell was too busy watching Ivan heft his favourite gun to notice. "The dock. The shed. Next to the Marquess of Dorset's berth." Jack smiled at him and patted his cheek. "Now that wasn't so hard, was it? Good man. Now where's the key?" He took the gun from Ivan and tapped it gently against Sir John's sweaty forehead. "The key, luv? I wanna hear it from you." He was toying with the man and thoroughly enjoying himself. Downstairs, the rest of his makeshift crew were stuffing away what portable loot was small enough to fit into pockets with a few shouts and some hushed laughter. "Sooner ya give it to me, the sooner we'll leave, luv." "My pocket." Jack dug into the dressing gown, relieved him of it and nodded to Ivan. "You've been so helpful, Sir John. I'll leave you to Ivan fer the moment. He's a few words he'd like to say." Immediately, Jack dug into the desk, rifling through drawers and tossing the contents about carelessly. He only turned around when he heard a strangled grunt to see Sir John, neatly gagged and dangling from his chandelier by the feet, his nightshirt around his ears. James held out his hand. "The key, Jack." Jack looked up from the desk. "Can you get it, luv? I got the small matter of Cap'n Hamilton to attend to?" "I will." James nodded sternly and pocketed the key. He stared at Ivan circling Gainsell with wild eyes, and for a second, remembered that look in Jack's. He bent closer, his voice shockingly low and intimate after the bellowed commands. "Do not let vengeance get the better of you, Jack." Jack's eyes slid to meet his and he nodded. "Don't worry. " He grinned. "No profit in it, is there!" He hefted a pouch with a fair amount of coin, weighed it in one hand and pocketed it, then tossed a small carved cinnabar dragon to little Matthew who was staring at the proceedings with round eyes. "Go get our goods back, luv." Jack leaned close to James and whispered, "Meet ya by the moorin's behind the Dorset. Take this an' pay the bargemen. Load it up an' be ready fer us. We'll come along as soon as we can, aye?" "Aye." The thrum of blood in his veins was familiar, the smell of powder on his hands stirring an old and dangerous thrill. It would have scared James, that battle-fever knew not whose orders it followed, but for the one thing that mattered: doing what he had to, for what he had decided. His grin was feral, and he gripped Jack at the nape and kissed him with desperate fire. Jack watched the flicker in James' eyes and was completely taken by surprise at the kiss. Surprised or not, he responded enthusiastically: James in battle lust was just as delicious as any other sort of lust. He broke away with a laugh and tucked the pouch into James' pocket. "I'm aimin' to get our Irish friend here and let 'em both stew in their own juices. You go get us that cargo, luv." All lust aside, Jack was careful not to use names. "Take care of the boy," James whispered, then straightened. "Andre, Van, Jan, with me. " Together, they stormed down the stairs. Jack swayed to where Gainsell was hanging and bent double to look him in the face. "Don't look very comfy, luv. Would you like a nice lie-down?" Behind him, Ivan cracked his knuckles and a few of the Dutchmen laughed. "Hoist him down afore his brain bloody explodes. No need to hurt him. Much. " He turned to Matthew, who was terribly torn between imitating the little dragon's fearsome scowl and watching the heft of Sir John's belly quiver. "Hey, barnacle, let's go downstairs an' see wot we find, aye?" Matthew nodded with all the grimness he could muster. "I'll ride down on my dragon!" Jack laughed and swatted him down the stairs to where Pietr had the few servants under guard in the kitchen. He beckoned to one small, dark boy, another shilling appearing between his fingers. "You speak English, my fine sir?" The boy's eyes were fixed on Matthew and he nodded. "Sir." Jack crouched down in front of him. "Know yer way t'the docks? The big ship bein' repaired there? The Chimaera?" "Oh yessir. Saw it come in, fine English ship!" The coin disappeared again as Jack crooked a finger for him to follow into a little study, rummaged in the desk for paper and dipped the quill. "You'll get double that if ya take this to the captain of that fine ship and give him this letter. Don't tell him nuthin', just bring him right back here, savvy? He wears a red coat, very rich, and has bright blue eyes. Y'know who I mean?" The boy's eyes widened and he grinned a gap-toothed smile. "You pirate?" Jack raised one eyebrow. "You wanna turn pirate y'self, mate?" The lad's head bobbed like a goose over a trough. "Aye aye! You give now?" Jack laughed. "When ya come back with the captain in the red coat." He folded the letter and sealed it with Sir John's ring, which had somehow got into his pocket. "G'wan, then." His eyes followed the small figure and he snapped his fingers for Jurgen. "Follow him and make sure, but don't let y'self be seen. Come right back if there's gonna be trouble." The remaining servants were quite content to eat what would have been Sir John's luncheon in the kitchen under Pietr's watchful eye. Jack bounded back up the stairs to the office. Ivan had Gainsell upright again and tied to his desk chair with the drapery cords, a handkerchief stuffed in his mouth. The others were busily ransacking the upper rooms as Jack plopped himself in an armchair, his leg dangling over the arm. "Mattie, y'see anythin' else 'round here ya want? Ivan, there's no need t'make a goulash of him. Too fat and old anyways." Matthew made a grab for an elaborate penknife and crawled up into Jack's lap, brandishing it. "Can I have it? Please?" "Sure, luv. All part o' the plunder. " He leaned forward and whispered, "Don't let Jamie see it, though. He might not be so pleased." Matthew's grin widened and he tucked the small knife into his belt, draping his shirt over it. He stared at Gainsell's red face, then flinched when the fat man glared back. "He looks angry." "Aye, he does. Though wot cause he should have to be angry I've no idea. Y'see, barnacle, Sir John here thought to have me danglin' from a noose. Did manage t'get me branded and that after havin' engaged my valuable services transporting some goods for him 'bout five years back." Jack shook his head and waggled one finger at Gainsell. "That wasn't very nice at all. So this is just a little payback for treatin' me so shabbily." Matthew tugged Jack's sleeve up and examined the brand closely. Before, the tattoo had always been of far more interest. "Means he got himself burnt with th'fire of his own brand? His face do look red enough." Jack guffawed and ruffled the boy's curls. "Yer a smart lad, Mattie! He certainly did. Now let's see wot other devilment he's been up to, shall we?" There were several extremely interesting documents in the hidden compartment of Sir John's desk that James had so cleverly shown them. Jack read through them swiftly, stacking them to one side while Vorst served up a round of the man's finest brandy. Jack's dark eyes lingered on the fuming East India man over his snifter. "You have been busy, luv. All manner of false manifests and doctored shippin' reports. I wonder you didn't turn pirate, Sir John. Y've got the right temperament fer it." Pietr yelled a quick warning from below and Jack looked out the window to see Hamilton striding up the path, clearly irritated at having been disturbed over a done deal. Jack's smile lit on Matthew. "Barnacle, will ya go down and let our Captain in? Pietr'll open th' door." Matthew bounced to his feet and held out his dragon. "You watch out for it." He bolted downstairs and waited for Pietr to pull the huge double door open, chewing on his fingernails and already craning his neck to look up. Hamilton looked down at the boy, his brow furrowing. "Matthew? Wha' in Holy Mary's name are you doin' here?" He pushed his way inside, then stopped as Pietr's pistol cocked behind him, his hand on his sword. "I wouldn't do that unless ya want an extra hole in yer head. Although that might be a blessin' and let out some o' those whisky fumes." Jack sauntered down the stairs as Pietr and Jurgen disarmed the startled Irishman. "Please do come up. Sir John an' me, we've been havin' a little discussion and we're anxious fer ya to join us." "Spanish? Wha' the..." "Captain. Jack. Sparrow." All those little doubts and prods that Hamilton had been storing in the back of his mind for four months fell together like pieces of a Chinese puzzle. His eyes got brighter. "So it's been Captain Sparrow pilotin' me ship across the Atlantic? Well now, laddie, that's quite interestin'." Jack's smile was impossibly cheerful. "Innit? Upstairs, mate." Hamilton knew better than to risk an assault when surrounded by loaded pistols. He shrugged and took the steps two at a time, glaring at the office doors. "Am I t'believe that ye've had dealings here before?" Jack shoved a pistol in his back. "Oh, a few." He stood back and let Hamilton take in Sir John and the Dutchmen; Ivan with his wild black beard, the ransacked office. He beckoned Pietr. "Get him a glass. No need to be uncivil." He handed Matthew back his dragon with a pat. "You stick close, barnacle, and you'll see how a real pirate works." "Jus' wha d'ya think yer doin', Sparrow?" Hamilton's red coat whirled around his legs as he turned to face Jack. "Me? I'm goin' home, luv. The home I was so rudely taken from." "Not on my ship, yer not! I'll turn ya over t'the Navy fast as--" Ivan clamped a huge hand on his shoulder and forced him into a chair, as Jack handed him the brandy. Jack just grinned at him. "Drink up, mate." He waited until the brandy was nearly finished and tried to remember to hold his tongue. After all, there were still too many things that could go wrong, but he couldn't resist one last dig. "Now that you've had a bit o' refreshment, luv, I should tell ya that it's not wise to impress a pirate. Makes 'em cranky, y'know?" Hamilton glared at him. "I don't know wha' y'think yer gonna do, Mr. Sparrow, but yer gonna regret it." Jack refilled the fine crystal. "To be sure. Have another drink. And try t'remember, Cap'n, never trust a pirate, aye?" His eyes met Ivan's over Hamilton's shoulder and he smiled. One blow was all it took to knock the Irishman unconscious. Clearly, Jack thought, the Russian fist is mightier than the Irish skull. He rose and bowed as Gainsell followed Hamilton into the land of Nod and the two were carted down to the wine cellar. Jack locked the door and the Dutchmen nailed a few boards across it. He grinned at their work and pinned the false manifests to the boards with Sir John's elegant letter-opener. "And a fond farewell, messieurs, from CAPTAIN Jack Sparrow!" He winked at Matthew. "Shall we go find Jamie?" "Yes, Captain Sparrow, Sir!" "Vorst, lock up the servants in the kitchen. Make sure it'll take 'em a while to pick their way out. And you!" H turned to the little dark lad. "I believe I owe you yer fair share." He handed over two silver coins worth much more than a trifling few shillings and patted his shoulder. "Yer a good man! Now, you behave and I'm sure yer Mam could use some o' that. G'wan. Get movin'." He watched the boy scamper out the back door and grinned. "Let's move out, lads. We've a ship t'catch." Jack's ten men split into two groups, taking different routes through the maze of streets until they met under the shadow of the dock where the Navy scow, Dorset was moored. There was no sign of James. The men passed around various bottles pilfered from Gainsell's cellar and sat on the sand, watching the tide rise more and more. Jack hid his growing fears and played dragon with little Matthew. It should have been easy: get the barge, pay like a proper customer, unlock the bloody warehouse and load it up. Nothing simpler. So where the hell was James? He swallowed his worry and tried not to swallow too much rum. Jack chattered as long as he could, but the tide was creeping up to lap at the toes of his boots. Another hour and they would have to find different quarters. He kept poking his head out to check the docks for Navy or Indiamen, wondering how long those locks would hold Gainsell's staff. As soon as one of them got loose, there would be hell to pay. He hoped to be long gone by then, but the time dragged and he fretted. James wouldn't go to the Navy. He couldn't. Could he? A cold chill washed over him so hard even Matthew looked up at him. His eyes were dark as pitch, the lines between his brows cut deep, his small mouth drooping. Finally, he turned to Vorst with a heavy sigh. "Get ready t'move. We'll have to take the ship without the bloody ivory." He swallowed hard and plastered a smile to his lips. The waves lapped against wooden planks, licking steadily at the stone footbridge. Matthew stared at them, then took off after Jack, tugging hard at his breeches. "Jack! Jack! Look!" Jack raised his head from settling the stolen cutlass and pistol. For just one moment, he could see nothing but the late afternoon glare of the sunlight, then a black shape glided towards them, figures moving like shadow-puppets against the sky. He blinked and squinted, one hand shading his eyes. Oars beat against the surface, hauling the shape closer and closer: a barge, and at its bow, James, a tricorn pulled deep into his face. He raised a hand and they drew in next to the Dorset. James jumped onto the footbridge. "My apologies for the delay." He looked up, and the sun hit his face, twinkling in his eyes. "I had to intercept the Chimaera's supplies." With a lazy wave, he indicated further barges pulling ashore. Jack would have cut a caper, done a hornpipe, a somersault or otherwise made a complete fool of himself if he hadn't known that every one of the new Dutch crew's eyes were fixed on him. He squared his shoulders with a grin. "Looks like ya found a few of the crew as well. Hullo Bertie!" He turned to bellow orders, turned back and flew into James' arms for a swift kiss, Dutchmen be damned. "Yer wonderful." There was no disguising the relief in his face. "Why, yes, I required their support to persuade the merchant we were, in fact, authorised to pick up the supplies allotted to a Captain Hamilton." James brushed Jack's hair back, then settled the tricorn from his head onto Jack's. "I'll want that one back, but for now you need to look the part," he whispered, then stood straight. "Where to now, Captain?" Jack's eyes were shining like Matthew's with his dragon, making him look absurdly young. "Let's go get our ship, then." They poured onto the barges and helped pole to where the Chimaera bobbed and swayed. Jack signalled for quiet, then, followed by James, Ivan and Van, he vaulted to the gang and strode on deck. It was on the tip of his tongue to make his usual 'taking over the ship' speech but he swaggered amidships and stared. The better part of the crew was assembled and Berkely stepped forward to greet them. "Ahoy, Jack Sparrow." James had to fight down the impression of Berkely looking almost military. Berkely looked over the Dutchmen approvingly, then turned back to the assembled crewmen. "You've got something to add to that, lads?" "Captain Sparrow," Bertie said, stepping forward to join the Chimaera's crew. "Captain Sparrow," Cookie confirmed. "Captain Sparrow." James' head jerked up at Griffin's voice. "Captain Sparrow." The acknowledgements grew into cheers, until each man had said it at least once. Berkely turned once more. "Welcome aboard, Captain Sparrow." Jack swayed forward to pump Berkely's hand in a firm grip, trying very hard not to grin too broadly. "Thank you one an' all. I can't promise we won't have t'cut and run pretty damned quick, but I can promise you all that we hold to the Code. Each man gets his fair share. What say you to that?" James was fairly certain that the resounding cheer answering was, "AYE!" James felt Jack take a deep breath as he turned and bounded to the quarterdeck. "Then wot are you lot waitin' for? Load in that cargo an' make ready to sail. We're for the Spanish Main, lads!" The deck seemed to shake under another "Aye, aye," as the crew scattered and went about their tasks. James turned briskly. "Vorst, Jan, stow the ivory in the orlop. Ivan, Andre, Van; the supplies. Cookie will show you where. The rest of you to the mizzen, haul the yards higher. Move!" Barely an hour later, he climbed the quarterdeck, drenched in sweat. "We are ready to weigh anchor." Jack looked up from the line he was hauling, in his shirtsleeves, the hat tipped over one eye. "Who's not comin' with us, James?" "Longthorpe. Deacon. Nevill. Stevens. Jackson. Baily...." The list was long, nearly two dozen names, and James could see Jack's face get longer with each of them. Almost too many, even with the Dutch to cover the losses. "Hamilton," he finished with a crooked smile. Jack shrugged. "We'll have to do without 'em then. Awright, you dogs! Weigh anchor!" he bellowed, taking the helm and accepting the spyglass from James. He scanned the docks, but there was nothing except the usual interest at one of the big English ships making way. "All hands!" He grinned at James. "We're goin' home, luv." "So we are, Jack. So we are." For a moment, his hand joined Jack's on the wheel, then he put his shoulder to the capstan until the Chimaera gave a shudder, her anchor weighed. It seemed only seconds later that her sails filled and she strained with the tide to get out of her prison. James had climbed the foretop and sat there, the coast behind them, sea stretching out in front of them. Homewards. He smiled as he climbed down, working hard with the rest of the crew until late in the night, alternately yelling commands and climbing aloft himself, as though he no longer knew whether to be officer or tar. Jack stayed at the helm, his eyes fixed on the horizon. "Well, now, my fine lady. We know each other, don't we? An' you know I'll treat ya right. So you trust ole Jack, aye?" Before he turned the wheel over to Van, a pilot of some repute among his own crew, he called every man on deck. "We're gonna split into four watches 'stead of two. James here is First Mate, Berkely's Bo'sun and Bertie's Second Mate. Any o' you lot object to Vorst as Quartermaster? Good. Awright, Berks, you separate the watches. I know it ain't gonna be easy, but we need all the speed we can get outta her. The Chimaera, lads!" He raised his flask. "The Chimaera! The Chimaera!" James thought he could feel the ship herself shiver in delight, a low thrum running through her timbers. "The Chimaera," he shouted. Above them, starlight twinkled and the moon herself, half-hidden behind her veil seem to blow a breezy kiss to speed them on their way. Jack finally stumbled into the galley when the last crate was stowed and the Chimaera was in Van's capable hands for the hellwatch. Most of the day crews had already collapsed into their hammocks and even Matthew had tired of using the soup's steam as dragon breath and lay curled beneath the big trestle table, clutching his pet prize. Cookie put a mug of grog in front of Jack and was nearly asleep in it by the second draught. A tired cheer emerged from a corner, then Ivan collapsed under the table, snoring loudly. Jack felt someone prod him and opened his eyes to James cradling a sleeping Matthew in his arms. "Come, lest you wish to share accommodations with Ivan." Jack nodded, his eyes half-closed. It had been utterly exhilarating and exhausting; the Chimaera was well on her way, speeding with the powerful westward currents towards Africa and he ignored his stomach's grumbling. Food could wait until breakfast. He followed James like a sleepwalker. They met Berkely in the causeway, stumbling towards his own cabin. "C'mon, gimme the lad. He don't deserve yer noise." James smiled gratefully and handed over the sleeping boy, stowing the dragon away safely. "An' don't keep the Cap'n up too long. He's got a ship t'run." Jack smiled sweetly and giggled in a less-than-fearsomely piratical fashion, pushed open the door to the Great Cabin and stumbled to the Captain's quarters. He fell face down across the bed, fully clothed. James tugged his boots loose, then the coat, folding it neatly on one of the chairs. He eyed the bed longingly, but instead went for the large cabinets and sea chests in the corner. Jack could hear him rummage, then felt a soft, familiar weight on his head. "Judging by the smell, I believe this is yours." Jack opened one eye, his hand reaching up, and grinned. "Ya found it!" He blinked himself awake and sat up, taking the hat off and reverently brushing off the crown. "I thought he'd chucked it f'sure." "It seems Scarletcoat and you have the same taste in fashion. I hope he also has kept my sword. Now make some room there." James' shirt joined the clothes pile before he sat down on the bed with a yawn. Jack slid over and pulled off his boots, letting them fall to the deck. He tried to lie down, got his pistol butt in the stomach and groaned, before standing up and stripping off every stitch of clothing, letting it all fall where it would before throwing himself down on the bed. "Now, tell me, James? How'd your part of our adventure go? Tell me th' story." His eyes twinkled under heavy lids. "And you always claimed it was Matthew who required a tale to sleep." For the first time that day, James allowed himself to relax, stretching out, looking up into the quiet dark of the cabin. "I would hardly call it an adventure. I had barely paid for the barge when I heard a merchant complaining loudly that he needed at least three more ships if he were to fulfil all his sales. "You should have heard him preen over his important customers, and that this order was on Sir John Merriweather Gainsell's own authority. It seems the payment for the ivory was to be part in victuals." James quirked a smile. "I am a gentleman, Jack. Thus I offered the good man my help bringing the supplies to the Chimaera, as I knew from the Captain himself that it was vital they arrived that very day." Jack cackled a laugh, the battered tricorn falling over his face as he slid under the blanket. "A very sneaky gentleman indeed! " "To his credit, he was suspicious, proclaiming that he had orders to only sign everything over to Captain Hamilton personally." James chuckled softly. "You should have seen Bertie. I barely heard him approach, but then he haggled as though he were born in these bazaars. The merchant barely got a word in, and in the end he insisted on adding a brace of pistols and this hat to the deal." Another chuckle. "Very well. I asked for the hat. I need something to protect my face from the sun." Jack laughed into the pillow, one dark eye peering up at James mischievously. "Certainly not to keep y'self from bein' recognised by certain other members of our former crew, aye? And good fer Bertie! I kinda figgered he'd be good at that. Must have him at the negotiations when we restock on the far side of Africa." "I wager he could haggle that dragon from Mathew if he set his sights on it." James' content laughter faded and he bit his lip. "Jack?" "Wot, luv? You've got th' makin's of a buccaneer under all that brass, Jamie!" Jack yawned and snuggled into his pillow. "Were you worried I did not?" James chewed on his lip and turned to his side, eyes wide. "When you saw me pull alongside in the barge today... you seemed so relieved. Did you think I was incapable of doing what was necessary?" Jack rolled over, but not before James saw the nervous working of his mouth, the shift of his eyes. "No, luv. I jus'...hoped ya had not run into trouble, that's all." Silence fell, broken by James' swallowing hard, then the rustle of linen as he rolled on his back again. "Jack?" Another silent breath, two. "Please tell me the truth." Jack sat up, his head bowed, peering at James through his hair. "Hard fer me to trust, Jamie. Whenever I gotta depend on someone like that...." He fell silent, gnawing on his lip. Then he looked up and James had never, not in more than four months, seen such an expression on Jack's face. "I can't help but worry, luv." James touched his arm, just barely, looking into his face, searching. "Why?" he whispered. "I gave you my word. I...I had hoped you knew me well enough to trust at least that." Jack's face looked pinched in the dim lantern light, haggard and drawn. "It's not that, luv. I do trust you." He took a deep breath and reached out for the bottle on the nightstand. "I can't help it. Once burned, twice shy, eh? Makes it so hard sometimes...like I gotta have things in front o' me face or I don't believe they're real." He swallowed a bit more. "The mutiny, James. I can't help rememberin' it." James sat up as well, a silver silhouette against the darkness behind him. He nodded slowly. "But is this not different? I am not only your First Mate, Jack. I am your mate." His voice was firm. Jack smiled at the darkness and one finger reached out to touch James' hand. "It is. I told ya I can't help it. It just happens. I get all ---I dunno---nervy." He sighed and collected himself. After all, no sense being hung for a goat, he thought. "Y'see, I trusted someone t'handle negotiatin' with Barbossa. He called out that it was done, but when I opened the doors, well, it all went t'hell an' I ended up marooned. I know it don't make sense." "Bill?" James' voice was infinitely soft, the single word barely a question at all. He turned his hand, offering the flat of it for Jack to touch. "You trusted him with more than the negotiations?" His answer was a sharp intake of breath and a faint jingle as Jack nodded. For a long time, there were no sounds in the cabin but the creaking of the timbers, and their breathing. Jack pressed his hand again and curled into the pillow. "I'm a loony old sod, luv. Don't pay any attention. I'm just dead bloody tired." James pulled him into his arms and did not speak for a while. "Betrayal hurts. I know." Jack nodded against his chest. "Worst thing in th' world, luv. But common as dirt." He laughed softly. "Don't know why I should complain. It isn't like it doesn't happen a thousand times a day, is it?" James wished he could say anything to counter that, then just shook his head. "We just did it today." "Not really. I woulda taken the bloody ship with or without the crew. An' since Hamilton impressed us, that don't square as to us bein' a part of the crew at all really." Jack grinned. He always had a loophole or two that he could wriggle through when he put his mind to it. "I know. We never swore him any loyalty. But this was mutiny." James sighed and suppressed a shiver. "He was not that bad a Captain. He did well by the crew, better than many Na...better than most." "Aye. And if you were still back at Fort Charles, you'da slung a rope round his neck in a trice," Jack observed dryly. He stretched and rolled the kinks out of his shoulders. "I'm afraid four months o'forced labour makes it a bit hard for me to have much sympathy fer our dear departed former Captain, luv. Not to mention all manner o' plunder I may have lost along with me time. And lest ya get too sentimental, Jamie, let us not ferget them four Letters o' Marque and all the good English cargos lost to Spain, France or God knows where. I believe yer sympathy is on shaky ground, luv." James flinched. Jack was right, and yet it was hard to stop thinking of Hamilton as captain. James had never truly accepted his authority, but still, instinctively he refused to defy it. He had learnt that all his life, knew how vital it was that a captain's authority was never put to question. He had seen the ships and crews of bad captains, of cruel captains; had served there. They did not look like the Chimaera. Hamilton also was a pirate, worse, a traitor, but somehow, the conclusion was not as simple as it should be. "You are right," James murmured, then fell silent. The silence stretched and he searched the darkness for answers until Jack's touch startled him. He smiled. "Good night." Jack curled into his arms and kissed his neck. "Night luv," he mumbled before diving into a dreamless sleep. James lay awake a while longer, listening to Jack breathe, feeling the Chimaera's soft tilt, the caress of the wind from the casements, brushing away what he imagined had to be traces of the cabin's former owner, until he, too, slept. It was still dark when he jerked awake, pushing himself upright. His brow was sweat-wet and he breathed hard, shivering as the sweatdrops rolled down his body. The moonlight outlined Jack's flask and he took it, drinking deep. Another gulp helped to calm his shuddery breath, enough so that he could hear the even ones beside him. Jack had rolled over, clutching at his pillow as possessively as a sleeping man could. James smiled and lightly touched Jack's shoulder. He let his hand lie there until it stopped trembling, then ran it up Jack's neck, brushing away the dark locks. His lips followed, mapping every inch with the barest touch. His breath hitched and he pulled away, easing himself onto the mattress again, shivering. An arm draped around Jack, pressing him tightly to himself, he fell asleep once more. Jack's eyes opened at the first touch, following the line of kisses and his lip lifted against the pillowslip in a half-smile. Trust James to celebrate their first real night of freedom by dreaming about hangings. He would never quite understand the peculiarities of English gentlemen, but he more than appreciated the kisses and the warmth against him. He closed his eyes and tumbled back to dreams.