Pirate Vindaloo, Chapter 9
Frozen Waters
by
Rating: PG-13
Disclaimers: The Rodent Empire owns them. We pilfer.
Originally Posted: 6/17/06
Note: Our sincerest and hearty thanks to smtfhw for her excellent beta.
Warnings: Potential spoilerish appearances for those who are adamant
Summary: More than a fight threatens as the Chimaera descends towards the Cape. This chapter includes more cast portraits.

The next days were sullen and silent, cold looks and frozen lips over sunlit waters. James ignored Jack and Jack ignored him back. Neither one seemed to be bothered to turn around long enough to watch the other's eyes, longing and hurt. Hamilton put Jack back on night watches and the course grew colder, the currents more treacherous. They rarely saw each other. Jack grew used to the orlop deck. James stared at the beams above his hammock until he had the grain memorised. When they spoke at all, James was most correct and formal. That hurt worse than accusations and bickering. Jack knew he deserved the cold shoulder. He'd done everything in his power to ensure James' protection and engage his affections, only to bolt in fright when it threatened his sense of liberty. He knew he'd been wrong and it only made him angrier and more snappish. The entire crew was aware of their continued estrangement and teased relentlessly. Jack shuddered to think of what might have been the scene had Wheldon not taken himself off in Dakar, and that made him profoundly unhappy. He laughed at the ribbing, but not at all the way he used to laugh. It was a bark, bitter and almost dangerous, daring anyone to go too far. His fists itched for a good fight. He would have welcomed another round with James. Berkely watched them both with saddened eyes. There was more than a quick shag between the crazy 'Spaniard', whom he suspected was no more Spanish than he was, and the proud gentleman who bore himself with remarkable military precision. They were both too damned proud and stubborn to admit it. The big sailor cursed under his breath: he and Bertie had not gone to the trouble of making damned sure Wheldon never got back to the Chimaera to watch them fall out in such a fashion. The days that passed didn't make it easier. James had become so used to Jack leaning in or casually kissing him that, while not precisely missing the touches, he did wonder were they were, feeling as if his daily routine was lacking when he woke up next to an empty hammock. He was not naive enough to fool himself for long. He did miss those touches, longed to reach out and touch himself. And that was the worst of it. He had been foolish enough to fall for the pirate's game, to actually believe there was anything honest in what Jack obviously paid for his own protection. It hurt, and that he was pathetic enough to let it hurt even more. Jack was a pirate, he had known that all along. Why had he suddenly thought to ignore it, to believe him different, a friend even? He didn't laugh at the teasing. He only glared, looking up blankly, and something in his face made most sailors fall silent. Bertie tried to lighten his mood by collecting extra grog for him once, but James only forced a smile and mutely shook his head. Grog would not make anything better. Lack of self-control had caused all this, more of it would not help. The wind became cold and all the men donned their coats, making the most normal routines cumbersome and slow. Jack had resumed his shortened shirt and stubbornly refused to change, huddled at the wheel with his coat pulled 'round him like faded, insubstantial feathers, his fingers frosting to the wood as they descended towards the Cape. The skies mimicked their moods, grey and weltering, always threatening but never breaking, until, near three weeks later, they finally opened and pelted the Chimaera with freezing rain and tiny shards of hail. Jack was at the helm when the storm arose, damping out the dawn and sending the ship plunging amid wicked wind and churning seas. He was exhausted when Jensen took the wheel, and hovered over his shoulder until Longthorpe chased him off the quarterdeck. He lingered out of sight, near the bow, watching their progress over the whitecaps with worried eyes, his teeth starting to chatter. The crew scrambled aloft to take in sail and he glanced upward, searching for James wearily. In that moment, the ship lurched and there was a scream of "Man overboard!" His head swivelled around frantically. Young Matthew had been not ten feet away and he was gone. Jack bolted to the larboard rail, then starboard and glimpsed one white hand over the froth. "Matthew. Got him. Throw me a line!" he shouted, shedding his coat and hauling himself up onto the rail. He took a deep breath and dove. James was up on the mizzen, reefing the top. His head shot up as the cry carried through the wind and he immediately saw the figure bobbing in the waves, only the dark hair visible against the foaming waves. He reached for the nearest haliard and slid down. The water hit Jack like fist to the solar plexus, knocking the breath from his lungs and stabbing like a thousand knives. He went under, and forced his arms upward, sheer will making him surface and try to still his convulsive shivering, flailing for Matthew blindly. His fingers brushed something solid and he grabbed for it, yanking hard. He found the boy's head and hauled him above the froth, his eyes stinging. He could just make out the great hull of the ship, cutting through the choppy waves and threatening to suck them both underneath her. He vomited seawater, his shoulders cracking under the strain as he swam hard, searching wildly for a line. There was nothing but grey green around him, Matthew's curls, dark and floating above his head. He kicked madly, his lungs bursting. He tried to push the boy higher, shaking and losing coordination. His hands were stiffening, deadly languor beginning to warm his body as it froze. There was no line, and the ship was moving too fast. He forced his arm out, fingers reaching, legs trying to kick feebly. A ship is awash with lines. To James it seemed there were far too few, nothing, just nothing. Finally, he near stumbled over a coil of rope, grabbed it, and rushed to the stern, eyes moving in panic. There, there Jack was, almost drawn into the Chimaera's wake. He tossed the rope. There was no time to fasten it, he only held it tightly wound around his wrists and hoped it would suffice, bracing himself against the rail. The rope flew out into the wind and fell just short, then snapped back against Jack's freezing fingers. Instinctively, they closed around it and he pulled Matthew with him, trying to suck in a breath and feed it to the unconscious boy. He forced his other hand around Matthew to grasp the line. His arms ached and burned with cold, his legs almost uselessly numb. James reeled him in carefully. It was cold, but any wrench on the rope might cause Jack to lose his tenuous grip. Now he could feel the ropeburn from sliding down the haliard, his fingers too weak. The rope slipped, a length of it rushing through his hands until he could grab it again. He held it, and in an agonising moment of stillness, he could feel the thump as Jack crashed against the hull. Oh God. He pulled, desperate, fingers clenched to not lose his hold again. Jack had been barely conscious when he'd felt the line go slack and his dangling legs twitched. He screamed a hoarse whisper and wrenched around with his shoulders to protect Matthew as the hull loomed. His fingers were frozen to the rope. Suddenly, the strain eased and James panicked, fearing to hold only a weightless rope, until he realised that Bertie had grabbed hold of the line behind him. Trembling with relief, James pulled, slowly, carefully; relieved, when, with every haul, he still heaved the weight of a man. Sailors slid and spun, trying to get hold of the rope. Even Hamilton put his shoulder to it as they heaved the two aboard, sucking them out of an angry sea.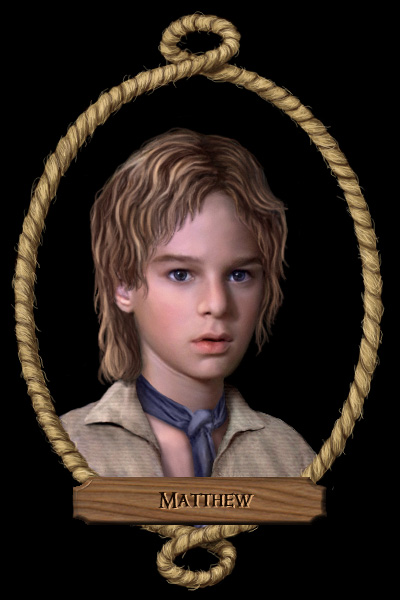 James grabbed hold of them and hauled them over the rail, all three tumbling to the deck with a gasp. Matthew. He hadn't even seen the boy. He was still staring when Nevill pulled the boy from his grasp. He dimly heard Matthew cough seconds later. Thank God. But Jack wasn't moving. James glanced frantically between the two, until Nevill rushed below with Matthew, half the crew following. James grabbed Jack, hauled him around his shoulders and rushed to the galley. He shuddered in relief when he saw that Cookie had a fire lit, laying Jack down in front of the stove and wrenching at his clothes, tearing at the wet material. "Jack!" Jack heard someone calling his name and he tried to answer, but he couldn't seem to move anything at all. He could hear the Pearl, that low hum in his heart; he heard voices; he wondered about young Matthew and why the Caribbean sky was dark and red. He couldn't move and it was such trouble to try. Easier to sleep and let the tide take him wherever it wished. He drifted on clouds and they were cold. He wanted to shiver. He should have shivered, but that, too, was far too troublesome and there were flickers of heat in the cold. He wished it would make up its mind. James pulled off his own coat and shirt, briskly rubbing Jack dry with it, then tossed it aside and pulled his coat around the shaking shoulders. Shadlow came into the galley and James snarled at him to get blankets, quickly. He clasped his arms around Jack and rubbed his back. "Easy now. Easy. You're out of the water, and both you and Matthew will be fine." Shadlow returned with a pile of blankets and helped James drape them around Jack. Cookie looked on with wide eyes and produced a mug of rum which James pressed to Jack's lips, holding tight with his own palms around the shaking grasp. Jack was quaking violently, limp in the throes of his body's shudders. His eyelids quivered, then flickered open to a reddish haze, green lights boring through it. He squinted. "But I don't like marmalade, Pearl." Berkely lifted an eyebrow from behind James. "Now, mate, I think ye should be worried if he thinks ye're his toothless sister." Shadlow took a closer look. "Yup, looks more like a wet rat," he teased. James grinned weakly and draped himself fast around Jack, clutching at the shivering body, brushing the wet hair away from his face, and laughed a bit too loud. "No more sweets, or you will be the toothless one. Here, drink." He eased the mug to Jack's lips and tipped it back. Jack was about to complain about the lack of pocket watches aboard, and why in hell was the Great Cabin festooned with flowers? He couldn't see them, but he certainly could smell them, sweet jasmine and gardenias, very tempting....when did rum grow like roses? His eyes flew open. "The kid," he croaked. "Where's th' kid?" The sweetness faded to bilge and shipstink and Jack gulped at the rum. Old men, and women, too said that to smell phantom flowers presages death. He swallowed frantically. James pulled the mug away, still trying to still the shivering and his own pounding heart. "Shhh. He's in sickbay. He'll be all right. All right, do you hear me? Thanks to you." Jack looked up at him curiously, then tried to sit upright. "Gotta see him." He fell back against James weakly. He was no immortal; just a man, and the freezing water had done its best to conquer him. That had been the sea, Norrington was the noose. He shivered so hard he thought his bones would rattle loose. James clutched him close and got to his feet, Jack still in his arms. He looked like a babe, wrapped in only the too large coat and the blankets. James took him to sickbay, sitting down on the hammock next to Matthew's. The boy was just waking up. He'd been undressed and wrapped into blankets, his blond head poking out of them, all too like Jack's; pale, teeth chattering. Jack's eyes flickered and he strained to move, but he couldn't stop shivering. He pushed his arm out of the blankets to pat the boy's shoulder. "Mattie? Hey? You awright, boy? Did no one tell you..." his voice drifted, his eyes rolling back into his head. He blinked hard and took a shaky breath. "not t'jump overboard like that?" Matthew grinned weakly, shaky as his teeth would not still. "'m fine. And you jumped, too!" He shivered violently and clutched at Jack's hand. James slowly reached out one raw hand to put it on top of theirs. "Hush, both of you. Curl up and stop wasting your energy with talking. Cookie promised to have hot tea ready in a few minutes." Jack's eyes moved, his head following in strange slow motion, and it made him dizzy. "Silly bugger. Should be holdin'...holdin'...." His eyes closed, the tremors jerking him feebly under James' hands. "Jamie? Should be holdin' him." He spat the words between chattering teeth. He stared at green eyes, the clothes' peg jammed awkwardly into the bulwark, the clouds in his mind, detached from himself and his shaking body. James winced and sighed. "For once, be practical, Jack." Apparently, Jack did not even want his help anymore, but whatever the complaints, he would not let him freeze. James stood, pressed the bundle of Matthew and his blankets into Jack's arms, then wedged himself behind them. The blankets slipped from Jack's shoulders as he moved, and James quickly righted them, but not before seeing the bruises, down to the ribcage and probably even further. He remembered how the line had slipped, the thump. With a small shudder, he touched his palm lightly to the bruise, then tugged the blanket higher. Berkely brought them the promised tea and went topside for his watch, leaving James behind as a thoroughly ridiculous nurse, a cup of tea in one hand, a cup of rum in the other. Sandwiched between James and the boy, Jack welcomed the body heat and a thought drifted through his head of James, and how much he missed that long, familiar body against his at night. His mouth wouldn't work properly. He wanted to say something... something about James; his name, something he was forgetting. He fought against the whispering expanse of pale fog that clouded everything. James remained still behind the two, mixing the rum with tea and tried to feed each as much of the warm liquid as he could, clutching his own trembling fingers around the cup, his hold around Matthew and Jack tighter than necessary. Jack pulled himself away from the pleasant fog and curled against James, clinging to Matthew. He forced his eyes half-open. "Put th' cup down 'fore you spill it, luv. Mattie sleepin'?" "Almost," James whispered, putting the cup to the deck, uncertain what to do with both hands free and finally clasping them over Jack's chest, just above Matthew's head. Jack smiled wanly, his eyes fogged and wistful. "James. Jamie?" James flinched at the soft sound, suddenly acutely uncomfortable in the overcrowded hammock. He forced a smile and carefully shifted out behind Jack. "I...I should be topside." The dark eyes softened, seemed to hold him back, then shuttered and closed. "Thank you, James." James smiled in apology and reached out, gently ruffling Matthew's curls. "I must thank you for saving him. That was brave." His hand was still lifted, hovered for a moment, then he dropped it and his lip curled into a nervous smile, gone as quickly as it had appeared. He turned and left. Jack wandered back to his blue-grey clouds and let them bob through his mind like so many puffs of a Chinaman's pipe. He blinked himself awake and stared at the raw beams above him. He couldn't sleep. He knew better, but it was so easy and warm to cling to Matthew and let go. He forced himself to get up and left Matthew wound in the blankets like swaddling clothes, taking a few and huddling against the hull, his breathing heavy. What was two plus seven-hundred fifty four and four/fifths? The average speed if a ship left Port Royal to arrive in Hell, with fair winds astern? Seventeen times twelve?He sobbed in a breath and rubbed his eyes until he thought he'd screw them out of his head. He made himself stand and prowled sickbay for something to help him stay awake, until he found a ball of twine, normally used by Nevill to tie off smaller extremities in need of amputation. He took it back to his corner and began knotting it, fingers moving mechanically, counting in his head, sometimes aloud. Jack fiddled away a great chasm with everything that sang and laughed, and heard the Pearl. James returned to the galley, only freezing when he was far out of sickbay. He picked up his almost dried shirt and slung it on, then Jack's coat, rushing topside to where the wind blew away the familiar scent. Longthorpe shook his head at him and, without a task, James made for the quarterdeck, the place where he had stood and tossed out the rope. Shivering, he clenched his fists around the rail, staring out. The waves were calmer now, deceptively peaceful, even if they could still devour a man within seconds. He shuddered, staring at his palms, ripped raw from the lengths of rope that had slipped through his hands. He had nearly let go completely, and it was only luck that Jack hadn't been knocked unconscious or lost his grip when he crashed against the hull. He never heard the footsteps behind him until Hamilton spoke. "Hey, Norbury? James. Seems t'me, laddie, yer glass is more n' half-full. That were quick thinkin'. Another minute and they'd have gone down. Dinna question it. It was a lucky day." His hand was heavy on James' shoulder for a moment before he turned away to talk to Jensen impatiently. James stared after him, then straightened and locked away all expression on his face. With a last glance to Hamilton, he descended from the quarterdeck and pressed Longthorpe into giving him a task, working away the remainder of the day to keep his gaze from wandering astern to the Chimaera's wake. Seven hundred.... twelve.... twenty-two. Jack's eyes fell closed. He dreamed, images distorted through the heart's lens: the Pearl, drifting towards him over the horizon, her black sails crackling with electricity, fire pouring from her guns. Closer and closer, the beloved figurehead swept towards him, fog shrouded and dim. Lightning tore through purple-black skies and her face changed, became another's: James glared at him, angry and cold and his eyes blinked wide. Twenty-three hundred eighty-seven... When his watch ended, James descended to sickbay, carrying three trenchers. He put away the tray and Matthew stirred, sniffing at the scent of the stew, sitting up. He saw Jack wrenched into the corner, entangled in a fishing net, fingers gripping it tightly, his head slumping against the bulwark, eyelids fluttering. James frowned and knelt, gauging a possible fever with the flat of his hand. Jack dreamed on, his fingers still working; the same dream, again and again. Every time he wakened, he struggled to stay alert, but only his hands listened. And every time, he saw the Pearl's figurehead; her upraised hands wielding a sword, sometimes a noose; James' face always cold and tight-lipped. He fought against his ghostly dreamscape and shuddered himself awake. His eyes flew open, he grabbed James' wrist and held it at arm's length until his strength was done and his muscles went limp as unstrung lines. His gaze was dull. James winced, and he warily pulled back. The clear concern in his eyes faded to disappointment. "Easy. Sit up slowly, I have brought supper." Jack's hands started to tremble, the twine in them shivering like a spider's web in a breeze. He was barely awake, but alert enough to see his dream-face before his nose and recoiled. His fingers kept at their endless knotting and he had an odd look, as if blind or looking someplace else that no one else could see. "Mattie? How's he doin'?" "Hungry, it seems." James' voice sounded detached and he shrugged, putting one of the trenchers down on the deck next to Jack. He saw the clear discomfort and swallowed a sigh, got to his feet and padded over to Matthew, sharing supper with him. The boy didn't look good. He was snuffling, his eyes glassy and his hand shaking as he tried to sop up the stew with a piece of biscuit. James eased him back into the hammock, checking his head as well. It was warm: the boy had taken a chill. Jack saw Nevill fuss over the hammock, and the outline of James in harsh silhouette from his vantage point on the deck. He watched intently as Matthew fought some brew until James leaned forward and tasted it first. His face was in shadow. Jack fell headlong into his dream, and this time it was frighteningly vivid, the face of the figurehead lit with malicious glee, the hands offering an all-too-familiar braid of black hair. He moaned, stirring, trying to stay awake and falling back into dreams. James had just managed to get Matthew back to sleep, distracting him with odd pieces of stories and other nonsense until he succumbed to exhaustion. He heard Jack's moan and rose, rushed over and re-settled the blanket around him, stroking his back in soothing movements. He had not set a condition to his help before, he would not now. He could not bear to see Jack suffering like this. Jack sagged against the bulwark, then forward into James' arms like a rag doll. He held his breath, then slowly raised his head, his eyes enormous and ill-focused, something of terror radiating from behind the blank expression. James reached up to brush the dark hair away from his face before he could stop himself, his hand lingering in the caress. "Shhh. It's all right. Let's get you back to the hammock. The deck is cold." "Yes. Cold. It is." Jack's voice was flat. "I'm awright. Just dreamin'. You know about me dreamin'." He leaned heavily as James lifted him and got him into the hammock, the canvas instantly cradling him. His cold fingers still moved against the blanket and James' arm, raising the sunbleached hair into gooseflesh. "Sorry, luv." James nodded, unable to hide his concern, bent over the hammock, hovering close. He slowly removed his hands, careful not to dislodge Jack's. The silence stretched. "You didn't take your supper. The stew is probably cold by now, but there is grog." The long fingers twitched, then fell away. "Not hungry, but thanks. Grog'll do fine. James, how's the lad? Worried." James kept his hand from chasing the touch, silent for a moment longer before he turned and got the grog. "He has taken a chill. Nothing too bad, I hope, and in all likelihood, he will be fine after a few days of rest. " Silence again, and he couldn't bear it. "He will be fine," he repeated. "Thanks to you." Jack shook his head, jingling faintly. "Me? Nah. Hope he's awright. I don't need t'be here. I'm fine." He pulled himself up to face James, then plucked at the blanket. "I hate th' bloody cold." "I used to hate the Caribbean heat when I first got there." James laughed softly and sat himself in the hammock between Matthew's and Jack's, fighting not to shuffle his feet. "We'll put 'round the Cape soon enough. Then we shall head north again." Jack's smile twisted. "Blasted idiot thing, innit? Sailin' north to get warm. It just don't sound reasonable at all." His hands had stopped shaking so badly and he sipped at the grog, then bolted down half the mug, smiling at James' involuntary laugh "Can't believe it's been so long. Wanna get clear of this and I want--want..." He reeled upright, his eyes searching. "James? You do wanna get home?" James slipped out of the hammock to kneel next to Jack's, his voice suddenly low. "Of course. Do you think I want to be a tar on a pirate ship for the rest of my life? They need me at home." He swallowed hard and forced his gaze up to meet Jack's. "Despite all else, I assume our accord on that account is still valid?" Jack's face changed like sunlight in shifting winds, and he swallowed. "Course it is. All of it." James smiled just barely and held out his hand. "Peace?" Jack could have wished that his own hadn't shook so, eyes locked on James, afraid of that terrible, implacable distain. Or worse, the heartless glee. "Peace, luv." He held onto James fingers for a moment, his own calloused and worn. His hand was in a tight grip for just a moment before James let go, lashes fluttering and lips widening into a smile. He rose to his feet and smiled again, his hand hovering to smooth the blanket, but he wrenched it back at the last second. "Sleep now, lest you take ill like little Matthew." "Me? Yer jokin', mate." Jack forced a reasonable version of his grin, hiding under his hair. So they were back to the beginning, as if nothing had happened between them but their enforced travels. He nodded and finished the grog, set his mug on the floor with quiet deliberation, and curled into the blanket, every bit as miserable as he had been for these past weeks. He watched James disappear through the door, fighting the urge to call him back. He kept himself awake once more, knotting and twisting the twine, fetching another ball and continuing until he could not keep his eyes open one moment longer. When James returned to sickbay the next day after his watch, again with supper, Jack was gone, the net balled in the hammock. James took it, feeling the rough texture between his fingers, the hundredfold of tiniest knots. His hands clenched into a fist around it before he turned, smiling at little Matthew, who lay curled into his hammock, sniffling and coughing pathetically. James sat down and helped him sit up to drink his hot tea. The trencher held a light soup for the boy that Cookie had specially prepared for him, sneaking it to James with a conspiratorial wink. "How are you, lad? Regretting your little swim yet?" Matthew's voice was dull, weakened and lowered by the chill. "'Tis fine long as I don't get up, and surgeon won't let me do that anyway. Tells me to sleep, but there's only so much I can sleep in one day. 'N that brew is dreadful. Right about worse than Cookie's stuff!" James hid a grin, well remembering how difficult a patient he was when confined a bed by a seeming triviality. "He is right about that. You need to rest in order to recover." He righted the blankets around Matthew and looked over into the other hammock. "Do you know where Jack is? He should rest, too." Matthew pouted. "Jack left this morning. Said he'd go barmy if he didn't get somethin' proper to do. And surgeon's been all round the ship. I can't keep myself busy without gettin' up." He scowled and would have stamped his foot had he not been in the hammock. James smiled and petted his head. "I have little doubt that you will be up and running in no time. You are stubborn enough to do that." He had been ten years old when he'd gone swimming for too long in cold water and had taken a chill. His mother had been worried out of her mind, but she had just as stubbornly tucked him in and confined him to bed, nursing him and keeping him occupied by reading to him. "Matthew, can you read?" The boy laughed, stopping on a cough. "You're jokin'." James sighed. "If I read something to you, do you promise to try to sleep afterwards, and not do anything foolish such as getting up?" Matthew's eyes lit up and he nodded eagerly, wincing once. "Would you really do that?" "Just wait a moment while I try to get a book. And stay put, or I will use that book to hit you over the head with it." James lifted one finger threateningly and made his way topside.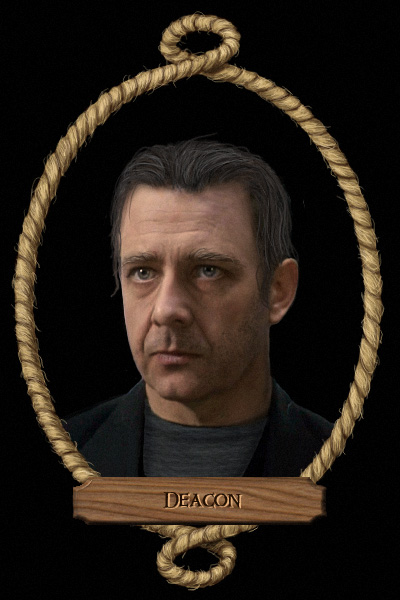 He spied Deacon on the quarterdeck. "My apologies for the interruption, Sir. I have a small request and hoped you would be able to help." Deacon's wiry brows drew together. "An' wot would the likes of you be wantin', eh? Speak quick, man." Everyone knew that his formidable bark was worse than his bite. James didn't let himself be dissuaded and put on his most polite smile. "It is about little Matthew, Sir. I know you own several books, and I hoped that I might borrow one to read it to him and keep him busy during his convalescence." The weathered face softened. "Wouldn't be a bad thing to give that boy some religion. You neither. Y'know where they are in my cabin. An' be careful with 'em." He turned back to Jensen. Jack watched from above, high in the rigging, swaying on one of the yards, and paused in his incessant count of gaskets and grommets. His brow furrowed and he slipped down into the shrouds, hanging from them, half-listening. James inclined his head. "I shall. Thank you, Sir." He turned, gave Jack a tentative smile and returned below, studying Deacon's bookshelf. None of the books was likely to meet Matthew's preference. His eyes lit on an English translation of the Holy Book. Likely, Matthew was already, at least audibly familiar with some passages, and that could prove to be an advantage. He took the heavy, leather-bound book and triumphantly returned to sickbay. "Matthew, would you like to be able to read?" The glassy blue eyes shot wide in the pale, round face. "Very much!" The bow coughed again and reined in his excitement, smiling shyly. James smiled back at him and pulled up the single chair, perching the book on Matthew's chest. The boy was reasonably familiar with Genesis and passages from the New Testament, so James began with those, explaining the letters and their shape, how they were used. It was easier when Matthew knew a sentence or a word and James could show him the corresponding letters. It would have been even easier with paper and quill to demonstrate how a spoken word turned into writing, to even let Matthew experiment a bit himself, but paper was precious shipboard. Maybe he could ask Hamilton later or get some in Bombay. Bombay. Hopefully not. His face fell a bit and he returned his attention to Matthew, making do with the means he had, barely noticing how time flew by. Jack wandered the Chimaera like a silent ghost until the watch bell sounded and he stole belowdecks to his cask. He worked the loose board free and pulled out a small roll of scrap paper, one of two pilfered quills and a half-full bottle of ink. After all, one never knew when such things would be useful, as his secret missive to Gibbs had proved. He squeaked the board back in place, refilled his flask and got lost in counting the barrels until he shook himself alert and slipped into sickbay. "Evenin' James. Mattie, yer lookin' better." His face was a strange shade of gold, almost chalky, and his eyes were sunk deep into his head. Hamilton had had Longthorpe keep an eye on him during the watch. He'd done his work aloft without any problem, but seemed to be daydreaming and would get lost in the weave of a sail or the coils of lines. Teacher and pupil took a moment to look up from the book, James just explaining why a word was spoken so differently than its letters indicated. Matthew was still pale, but he grinned from ear to ear and beamed with pride. "James is teaching me to read," he announced gleefully. James looked up and laughed softly, hiding an embarrassed smile, as thought he'd done something improper. "Matthew is a most interested student. Good evening, Jack." Jack came closer and James started a little. "How are you feeling?" Jack swung himself into the opposite hammock to face them, cross-legged. His grin was tired. "Now that is a fine thing, Matt. Nothin' better for ya. Once you can read, son, there ain't any man that can take it 'way nor tell ya wot t'think. A very fine thing." He reached into his shirt and handed the small roll of precious paper, the quill and ink to James. "Thought this might help with the lessons. No sense t'be readin' and not be able to write, aye?" James' eyes widened and lit up, his lips stretching into a smile. "I had missed just that. Thank you." His eyes had followed Jack's movement and lingered, taking in how the new shirt hung lower than the old, covering waist and thighs. He cradled the paper like a precious treasure, about to speak again when Matthew interrupted him with an enormous yawn. Jack smiled and plucked the book from Matthew's drooping fingers. "I think your pupil is ready for a bit o' shut-eye, luv." He turned it around and glanced at the page, laughing softly. "Is there a rule somewhere that says anyone who learns his letters shipboard must do it with King James' help?" "I doubt Milton would be any more to your taste and, save that, Deacon's choice is limited." James laughed softly and carefully took book and writing utensils to stow them away in one of the shelves Nevill had cleared. Matthew pouted, but remembered his promise and obediently stretched out in the hammock again, his thrust-out lower lip enormous, the plea in his eyes clearer than any words. James hid a grin. "If you promise to sleep and behave yourself tomorrow, I will return for supper and further lessons. Is that agreeable to you, young Master Matthew?" Matthew blushed furiously and nodded, then curled up. He was asleep the moment he'd muttered a soft, "Thank you." Jack rose stiffly and gave the boy a quick kiss on the cheek. "Sweet dreams, luv. See ya t'morra." He headed towards the door and waited for James, leaning against the frame heavily. "He's a rum little bugger." "He is." James' voice was soft, his smile wondering. He reached out, snatched his hand away and let it drop. "You look just as tired as he is. Shall we go to the berth?" Jack nodded and trudged to their quarters in silence. He stumbled once on the steps, caught himself and straightened, making for his hammock and sitting in it, his fingers moving restlessly, tapping out a silent rhythm. James blinked into the darkness, sitting on his own swaying hammock, fighting not to shuffle his feet. Everything around them was silent, the hold blissfully empty. "Considering your comment, I take it the Holy Book was used to teach you to read?" he asked suddenly. A slow grin stole over Jack's face. "Hell, yes. First thing I ever read, and it still puts me t'sleep. Well, some if it's not bad. The Song o' Solomon. An' I rather like the Psalms. But I didn't have half so nice a teacher." He pulled off the shirt, rolling it up and huddled in his blanket. "That's a kind thing, James, and young Matthew'll be all the better for it." "I have found out that Midshipmen learn navigation better by explanation and demonstration rather than by using a cane. And he is a good lad. He deserves better than this." He started a bit at his own words, glancing around the hold quickly, the tension ebbing as he found it empty. He stared at Jack's back. The bruises went down to his hip, further than he had expected, darker now, the edges fading to purplish yellow. He bit his lip, and reached towards his coat pocket. "I got some ointment from Nevill. Would you like me to tend to...this?" He reached out, hand barely hovering over one shoulder. Jack's eyes flickered up to meet James'. He nodded, biting his lip. "It would be another kindness, James." He stretched out and rolled to his right side, facing the empty rows of hammocks. "Canes can sometimes be th'only way." His shoulders shook in a laugh. "Worked on me fast enough." James poured some of the ointment into his palms, clenching them together to still their trembling, then knelt down, spreading his palms flat on Jack's back. It was warmer than he had thought, warm from injury, and the sharp smell of herbs filled the air. He gulped and looked away, staring at the hook that secured the hammock while his hands worked. "Why would I need a cane for a willing pupil? It is his choice, nothing I need to beat into him." His hands lingered and he quickly poured more of the ointment, spreading it on his palms. He kept them flat as he worked, rubbing gently. "Who taught you, and when?" Jack exhaled deeply, sighing with pleasure as it cooled the sore flesh. "Lord, long time ago, when I were 'bout six, I was apprenticed to a cartographer, so I had t'learn, didn't I? Damn me, if the old bugger and his journeyman didn't make sure I learned fast." He flinched a little, then relaxed. "Suppose it were th' best way with me. I wasn't a prize pupil, like young Mattie." "Shhh...." James kept his touch light, soothing, concentrated not to let it slip too low or linger too long. He only wanted to help, nothing else, and if a stupid part of his mind became wistful, it would have to shut up. "Nonsense. I'm sure you were just like him when you were young. Hell, you are just like him still." He continued after a short, stifled laugh. "The Captain who first taught me navigation seemed to believe a beating would help anyone to remember anything. Fortunately, the Lieutenant was a lot more capable of teaching without a cane." Jack's eyes flew open. "Jamie! Shhh. Dangerous waters, mate." He shifted to peer over the edge of the hammock at the empty hold, and breathed a sigh of relief. He settled back down and James could feel the constant tension in his shoulders and back. "All learnin' is a fine thing. Better if it's a pleasant task, but worth it, no matter how it's got. Bet you were a rum little bugger yerself." "Not a bugger then," James laughed softly and brushed Jack's hair aside. His neck wasn't bruised but the tension was there as well, and he smoothed his hand over it lightly. "And sea-sick like a little rat." Jack's lips curved into a smile. "Never been m'whole life. And that's the truth. I were born shipboard. How old were ya, Jamie? And wot was it like before...?" Jack battled the urge to stare at the canvas and count the warp threads, fighting sleep on instinct now. "I was twelve. Just barely. I thought I had never in my life seen such horrible weather. And that after growing up in England." Another soft laugh. The smell of herbs began to fade, mingling with sweat, and James realised he had bent closer. He pulled away but kept his hands steady, not wishing to startle Jack. "Life was warmer before, cleaner. But just as much water in my ears." James shrugged, his hands stilled for a moment. "It's been my life since then. I don't regret it." Jack sighed and stretched. "That feels good. I can't imagine bein' stranded on land. Not fer good. I think I'd go mad. Not that I may not be mad already. Everyone says so." He felt detached and ready to brave any dreams. James' hands were sure but gentle, and the scent was green, tickling his sinuses. "Where'd Nevill get that? Smells of th' Orient t'me. Most amazin' medicine there. Stickin' pins in folks to cure lumbago." Something tethered inside of Jack let go and he knew it was safe to trust James' hands and the current. He smiled again. James grinned to himself and the darkness. "I don't know. He only pressed it into my hands and said that I should bloody well stop rummaging through his supplies and ask for what I need." "Long while back, I shipped out on a very nice little lady called Lillia di Cremona, outta Macao. Ever heard o'typhoons, Jamie? Devil winds they call 'em. They roar outta the Pacific like cannonballs and tear down everythin' in their path. Got clobbered when the foremast cracked and I wasn't right fer weeks." "You seem to have suffered an impressive amount of headwounds." "'M always gettin' knocked about one way or another. 'Twas so bad they had t'take me to some place. There were this Chinese feller, pins and strange-tastin' tea." His shoulder moved in a shrug and he felt limp as a bit of dulse collected on shore. "You hit your head again this time, didn't you?" James asked softly, smoothing in the last of the ointment, before he pulled up the blanket and tucked it in around Jack. "But you can sleep now. It has been days already." His voice was soft. Jack wanted to laugh, and wondered why it would be a bad thing if he hit his head again. It was hard as oak anyway. Laughter was too taxing and he smiled again, his breathing slowed, and he slept for the first time without dreams or disturbance since before Dakar. James slowly backed away, careful not to upset the hammock's balance. Only with the mention of the headwound had he realised that Jack had barely slept the past days; why, he suspected not even Jack himself knew. It was always the act. The act of Jack Sparrow that had crumbled a bit here and there. That must have irked Jack. He was like Matthew: fighting against sleep stubbornly, tired beyond his limits, but locked in a battle of wills against his own exhaustion. James sat awake for a long while, but Jack didn't so much as stir or snore, rocked by the swaying hammock. When his own head slumped for the third time, he stretched out, falling into uneasy rest.